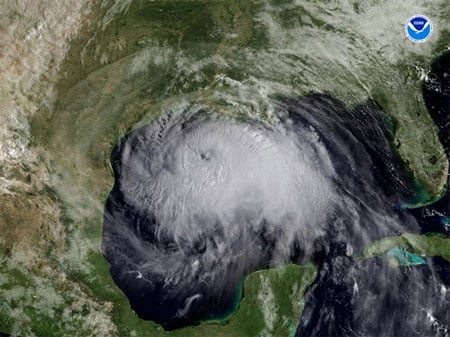 Above, Hurricane Ike bears down on the Texas coast:
"Waters rose rapidly along the Texas coast as Ike moved within hours of striking low-lying areas near Houston with a possible 20-foot (6-meter) storm surge in what may be the worst storm to hit Texas in nearly 50 years. The National Weather Service warned that people in coastal areas could face "certain death" from the storm's massive storm surge. Ike was a Category 2 storm with 105 mph (165 kph) winds as it moved on a course that pass directly over Houston — the nation's fourth-largest city. Ike was expected to come ashore late on Friday or early on Saturday as a dangerous Category 3 storm on the five-step intensity scale with winds of more than 111 mph (178 kph), the National Hurricane Center said."
Our thoughts go out to all of you down in Texas.