The ongoing San Diego Gay Pride firefighter trial yesterday saw the testimony of firefighter Alex Kane: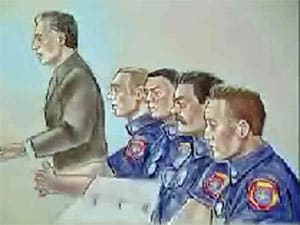 "Kane, who has worked as a firefighter for six years, testified that he became the butt of jokes at the fire station. He also said the parade experience adversely affected his family life. 'I felt confused, embarrassed, used, abandoned by my leadership,' Kane said. 'I had to fight through it.' He said professional counseling has helped him overcome the distress. But toward the end of his testimony with LiMandri, Kane started to break down. He covered his face and asked for time to compose himself, and the judge granted him a break."
The defense cited a document in which Kane had asked the San Diego Fire and Rescue Department for compensation for the ordeal (along with an apology and policy revision) as evidence of an underlying financial motive. Kane on the stand said he no longer wants the compensation. The defense also suggested Kane was hypocritical, having lived in the heavily gay-populated Hillcrest area for a year.
Previously
Assistant Chief: San Diego Firefighters Required 'Critical-Incident Stress Debriefing' After Gay Pride Parade [tr]
San Diego Firefighter Gay 'Harassment' Trial Begins [tr]
San Diego Firefighters Claim Threats After Gay Pride Complaint [tr]
San Diego Firefighters Sue Dept for Gay Pride Sexual Harassment [tr]