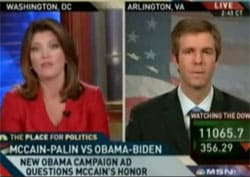 Two anchors, Megyn Kelly at FOX news and Norah O'Donnell at MSNBC seem to have taken Amy Poehler's SNL advice to heart and "grown a pair" as both grilled McCain spokesman Tucker Bounds, forcing him to defend the lies McCain's been pushing in his latest ads.
You may remember the pounding Bounds took from Campbell Brown at the beginning of the month when she asked Bounds to name "just one decision" Sarah Palin had to make with regard to national security.
Luckily for Bounds, a "glitch" abruptly ended his interview with O'Donnell.
Watch them, AFTER THE JUMP…