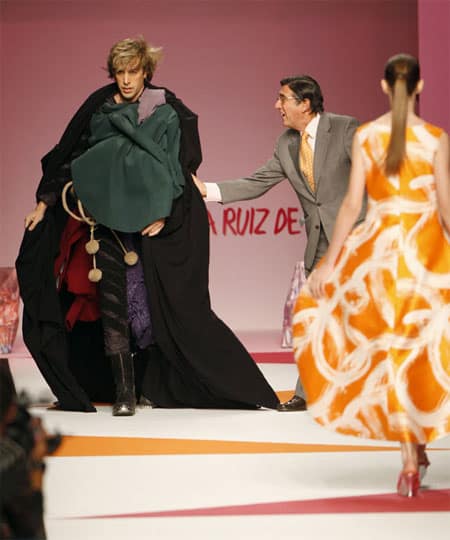 Sacha Baron Cohen, who is currently filming his film Bruno featuring his gay Austrian news reporter character, caused a ruckus on the runway in Milan during fashion week. He was then arrested.
The HuffPost reports: "Cohen interrupted the fashion show of designer Agatha Ruiz de la Prada in Milan making it onto the catwalk dressed as his Austrian model Bruno. Dressed in a black cloak, and a bizarre bundle of clothing, Cohen strutted down the catwalk past the shows' models. But the police were called when he refused to leave to restore order. Scantily clad models screamed and security guards dived on him and several others with him and bundled them away. TV footage screened on Italian TV showed Cohen dressed as his creation Bruno, a flamboyant Austrian fashionista."
Cohen's fake news reporter has already made news this year at a cage fighting event in Arkansas, in an interview with a former Israeli spy, in an attempt to talk to Arnold Schwarzenegger, go-go dancing at the Wichita airport, and duping Ben Affleck.
Check out the video of the stunt and arrest, AFTER THE JUMP…