Yesterday I reported that the judge in the case involving firefighters suing the city of San Diego who say they were sexually harassed after being forced to ride in the city's Gay Pride parade said there had been enough testimony to send it to the jury.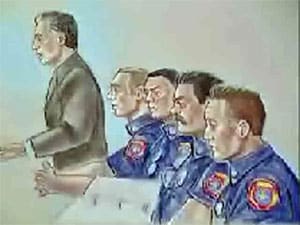 The attorney told the jury on Tuesday that the firefighters should be awarded $1 million each for the harassment they suffered.
"Charles Limandri said firefighters John Ghiotto, Jason Hewitt, Alex Kane and Chad Allison were called names and subjected to cat-calls, hostile language and other sexually explicit acts by scantily clad parade attendees on July 21, 2007. The firefighters, who manned a station in the Hillcrest neighborhood where the parade took place, were ordered to take part when another crew backed out the night before the event…Limandri said the firefighters saw a man on the parade route groping himself and tried to videotape the event, but failed. 'Nobody should see a man doing that in public,' Limandri told the jury. The attorney said the firefighters are men of integrity and honor who felt 'humiliated, demoralized, abandoned and persecuted' by the event. Ghiotto admitted he probably committed 'career suicide' by filing a complaint against the city, Limandri said, adding, 'the city failed them.' Hewitt — now a captain — claimed his supervisors retaliated against him for bringing the suit by giving him low marks while he was trying to get his promotion."
Jury deliberations are scheduled to begin today.
Background
Judge: Firefighters Case Ready to Go to Jury [tr]
Firefighter Testifies in San Diego Gay Pride Trial [tr]
Assistant Chief: San Diego Firefighters Required 'Critical-Incident Stress Debriefing' After Gay Pride Parade [tr]
San Diego Firefighter Gay 'Harassment' Trial Begins [tr]
San Diego Firefighters Claim Threats After Gay Pride Complaint [tr]
San Diego Firefighters Sue Dept for Gay Pride Sexual Harassment [tr]