A bisexual Australian firefighter has lost a sexual harassment case. Ken Campagnolo, a firefighter with the Department of Sustainability and Environment (DSE) in Australia, says he lost his job after being publicly outed and harassed by other firefighters: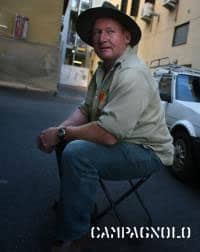 "Mr Campagnolo alleged he was repeatedly being called a 'poof' and said he was publicly outed as a bisexual when presented with a Barbie doll at a staff Christmas party, although DSE said that was a friendly play on his name Ken. He said dolls were left on his locker to taunt him about his sexual orientation. VCAT vice president Judge Marilyn Harbison struck out Mr Campagnolo's claim of sexual harassment but adjourned his case for discrimination for further assessment. She also said Mr Campagnolo should not have represented himself and should have received better legal advice. 'Mr Purcell's words may well be described as abusive and offensive, but they cannot as a matter of law be described as sexual harassment because they do not represent an unwelcome sexual advance,' Judge Harbison said."
Campagnolo also said that publicity over a job loss two weeks earlier from central Victorian country football club Bonnie Doon, where he worked as a volunteer trainer, contributed to the harassment.
An associated discrimination case is still pending with the DSE.
related
Atty Wants $1 Million Each for SD Firefighters 'Harassed' at Gay Pride [tr]