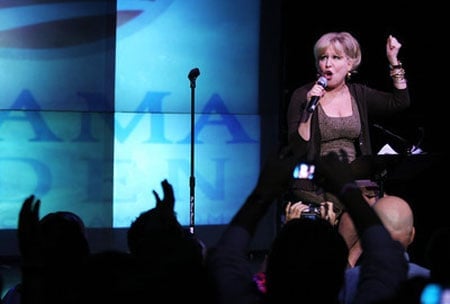 Bette Midler stumped for Obama at Las Vegas' gay nightclub Krave on Monday night:
"Midler perched on a stool at the front of the club's stage, facing a packed dance floor. Wearing a leopard-print mini-dress and matching gloves, she proceeded to tell a few hundred of her closest friends what was on Miss M's mind. 'I am so distressed about this election, oh my God,' she said confessionally. 'I haven't left my house in days. I watch the news channels incessantly. All the news stories are about the election; all the commercials are for Viagra and Cialis. Election, erection, election, erection — either way we're getting screwed!' Midler said she has sung for candidates and raised money for candidates, but she's speaking out more than ever before in this election because Obama has moved her more than any candidate before him. 'I come from an extremely poor family,' said Midler, whose father was a house painter. 'I know I look divine now, but I was not always divine.' Her humble background, she said, taught her to value hard work. 'I had big dreams,' she said. 'You know me. You've watched me for 40 frickin' years. Every single dream I had my entire life came true. Barack Obama says only in America could his story happen, and I totally understand because only in America could my story happen.'"
A couple of clips, AFTER THE JUMP…
Intro is the same on each.