McCain's top lawyer, Trevor Potter, is gay: "As the campaign's general counsel, Potter has been identified by newspapers such as the New York Times and Washington Post as one of the nation's most highly regarded experts on U.S. election laws. Potter has been credited with helping draft the McCain-Feingold Act, a bipartisan federal measure that reformed federal campaign finance laws. But few mainline news outlets have reported on Potter's other role as a high-level, openly gay adviser to McCain."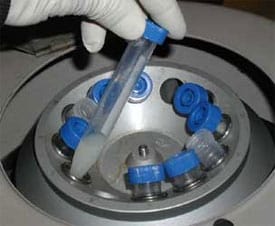 Kevin Sessums takes a look at the trend of sperm washing: "Most of the gay men who go the surrogacy route are HIV negative, but because of the 'sperm washing' technique initially developed for heterosexual couples dealing with infertility issues, HIV positive men, who are living long and healthy lives because of the drugs now available to them, are also increasingly becoming fathers."

Lady Gaga puts on her Poker Face.

Lawrence King's killer Brandon McInerney to undergo psychiatric tests: "Ventura County Superior Court Judge Kevin McGee appointed psychiatrist Ronald Thurston and psychologist Marlene Valter to examine McInerney and determine whether he has the ability to understand the nature of the criminal proceedings and assist his lawyers in his defense."

Tyra Banks looking for "ex-gay" wannabes.

David Beckham being loaned out to Italy.

Elton John's new AIDS musical not as radical as it seems.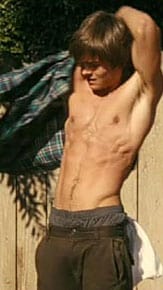 This is what a young Matthew Perry looks like?

First it was on, then it was off. Now, the divorce between Little Britain creator Matt Lucas and his partner Kevin McGee looks to be nearly complete.

Gay NYPD officer found guilty of sexually harassing two male sergeants and creating a lewd, hostile work environment: "Lt. Kieran Crowe, 50, denied the allegations, and blamed his behavior on 'jock itch.' Sgts. Dominic Coppola and Sean Gallagher filed an internal complaint against Crowe in 2004, when all three men worked at the Office of Equal Employment Opportunity at Police Headquarters. They also sued the city and the NYPD in Manhattan Federal Court. The sergeants said Crowe, a 23-year NYPD veteran, simulated masturbating and wiggled his tongue at them in a sexually suggestive manner in the 12th-floor office which, ironically, investigates harassment in the workplace."

SPOILER: Meet Saul's new boyfriend on Brothers and Sisters.

Florida student receives Playboy Hugh M. Hefner First Amendment Award for sticking up for LGBT students: "Heather Gillman, 17, now a high school senior in Ponce de Leon, FL, received a $10,000 award for her fearlessness in speaking out on behalf of the rights of gay students. Gillman successfully sued the local school board after her high school principal banned students from wearing t-shirts, stickers, buttons, or symbols showing support of equal rights for gay students."

Helena, Montana library to keep Joy of Gay Sex book on shelf.

Barney Frank on being mobbed at Statuary Hall in the Capitol: "I have nothing to say except I know how Britney Spears feels."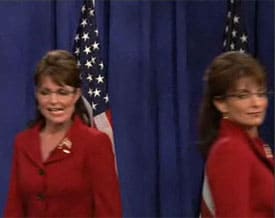 Satirist apologizes for report some people took seriously that West Hollywood was banning Sarah Palin drag queens at this year's Halloween celebration. Plus, Tina Fey throws her a bone.

Lorne Michaels on how they got Palin for SNL.

NYT to publish narrative of Palin pick in Sunday magazine: "Having interviewed several of the Senator's chief aides, Draper details the process by which McCain ultimately chose his running mate (New York City mayor Michael Bloomberg was surprisingly high on the list). And the decision may have been even more impulsive than initially thought. Gov. Sarah Palin, who had never been on the VP shortlist, was advanced at the last minute by Schmidt and Rick Davis, and was picked after a chat with McCain at his ranch in Arizona." Massive article NOW ONLINE.