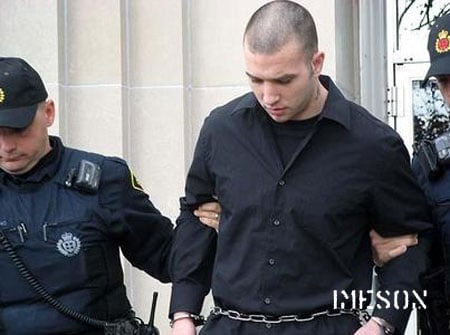 Back in August 2007 I reported that a massive manhunt had succeeded in nabbing Jesse Norman Imeson, 22, who was suspected of strangling Carlos Rivera (below, left), a bartender at Windsor, Canada's The Tap, after applying for a stripper job there hours earlier.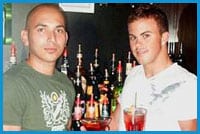 The details were laid out in court: "Rivera lived in the same boarding house as Imeson. Court heard that Imeson strangled Rivera with a belt because the man performed oral sex on him, after a night of drinking. Imeson had earlier applied for a job as an exotic dancer at the club where Rivera worked."
Imeson was caught in Quebec after a cross-country manhunt during which he took the lives of an elderly couple caught in the fray.
Ontario's Star reports: "Imeson was sentenced to life in prison yesterday with no eligibility for parole for 25 years for the July 2007 murders of Rivera, in Windsor, and elderly farm couple William Regier, 72, and his wife, Helene, 73, in their farmhouse near the Lake Huron resort town of Grand Bend. He pleaded guilty to second-degree murder, after originally being charged with first-degree murder. Imeson's lawyer, Donald Crawford, told the court his client didn't plan on murdering the Regiers when he broke into their home while on the run from police. The pair were later found in their basement. William Regier had been shot three times, while Helene had four bullet wounds. Both were bound with electrical cords."
Said Imeson to an undercover cop in a prisoners van: "The gay guy, if I had to do it again, I would do it."
Previously
Killer of Gay Canadian Bartender Caught After Massive Manhunt [tr]