Earlier this month I reported on a seven-year-old kid who snuck into the Alice Springs Reptile Centre in Australia after-hours and spent 30 minutes killing reptiles.
A similar incident has occurred, this time in Adelaide, Australia. To the left is a photo of a nearly blind flamingo believed to be about 80 years old that lives in captivity at the Adelaide Zoo. It's thought to be one of the oldest in the world.
Four teens have been charged with mauling the bird: "Police said two males aged 17 and two men aged 18 and 19 were charged with aggravated ill-treatment of an animal. They were bailed to appear in court at a later date. The flamingo was attacked yesterday afternoon and suffered beak damage, head trauma and bleeding from the left eye. The bird was sedated and taken to a local vet and his condition improved overnight. The flamingo arrived at the zoo in the 1930s and currently shares his enclosure with a Chilean flamingo that arrived in Adelaide about 1948. The pair are two of only three flamingos currently in captivity in Australia."
There were reportedly witnesses to the attack on the bird, which a spokesman for the zoo described as "tame and docile."
According to the BBC, "Police and zoo officials said the flamingo's head and beak were injured and it was bleeding from an eye. The bird, aged at least 75 years, is in a critical condition, zoo staff said…Zoo bird keeper Vaughan Wilson was quoted as saying the birds had been popular partly because they were accessible to the public. But he said the knee-high fence separating the flamingos from the crowd had always caused concern. Australian newspapers reported that the attack had caused public outrage and that radio talk shows were overwhelmed by calls."
A photo of the flamingo after the attack, AFTER THE JUMP…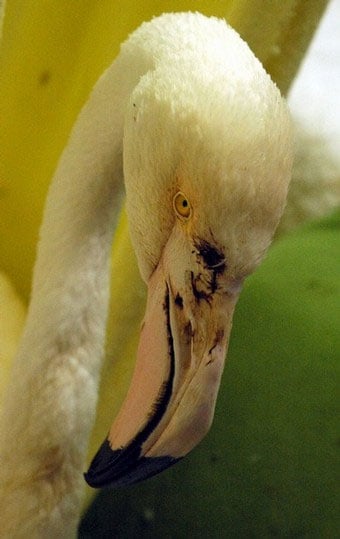 Sickening.
previously
Seven-Year-Old Goes on After-hours Reptile Killing Spree at Zoo [tr]