Here's the booking photo of Joseph Storm, who was arraigned yesterday on a felony hate crime assault charge and a misdemeanor count of interfering with another's civil rights for attacking a gay man who was wearing a 'No on Prop 8' button by beating him with a "Yes on 8′ yard sign.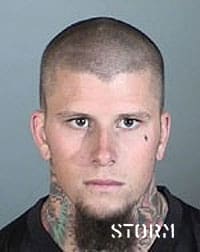 "Storm made his first court appearance wearing a football jersey, a long and pointed goatee and colorful tattoos from his shaved head to his feet. His attorney, Jose Medina, argued that Storm's bail should be reduced from $50,000 to $20,000, or that he should be released on his own recognizance. Medina told Judge Thomas Sokolov that Storm has no significant criminal record, takes care of his grandmother and has a 2-year-old daughter. Storm hopes to attend community college and has applied to the plumbers' union, Medina added."
Yep, that's Joe the would-be Plumber.
According to the Daily Breeze, "The unidentified victim told police that Storm used the "Yes on Prop. 8″ lawn sign to hit him, then punched and choked him. During the attack, Storm called him a homosexual slur, prosecutors said. The victim was treated at a hospital for a gash on his head, according to prosecutors. Storm, however, told officers he was upset with the alleged victim because he threw the campaign sign in the street after holding up his middle finger at it."
The "No on Prop 8" campaign DESPERATELY needs your help. Donate HERE.