Kell Hulsey, a sergeant in the police force in Greeley, Colorado who reportedly threw the first punch in a bar fight back in July, has been reinstated to his job.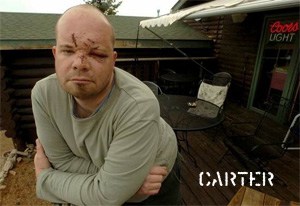 If you'll remember, Hulsey and his son Daniel went after a man, Brian Carter, they thought was gay because he was looking strangely at Daniel in the bar. Turns out the man just had a lazy eye. Following the brawl, Kell Hulsey and his son fled the scene. The younger Hulsey was later arrested and the elder Hulsey reportedly fired from the force pending an investigation.
There were plenty of witnesses.
Now, the Greeley Tribune reports: "While his fate in an assault investigation is still unsettled, Greeley police officer Kell Hulsey has been reinstated to his job after he appealed his firing last month. According to sources, Hulsey has been reinstated as a patrol officer, and could earn his sergeant rank back within a few months. Meanwhile in Larimer County, Sheriff's spokeswoman Eloise Campanella said they completed their investigation of the Hulsey case had turned it over to the Larimer County District Attorney's Offices for charges. That investigation included DNA samples from the scene."
The city's HR director won't comment, and the DA is reviewing evidence in the case.