Two suspects are in custody after assaulting two men near the Georgetown University campus over the weekend, The Hoya reports: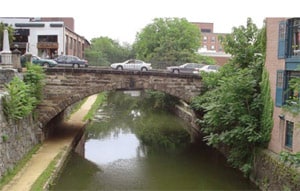 "While walking along the Chesapeake and Ohio Canal path by the 1100 block of 34th Street, the victim, who wished to remain anonymous, and his friend were approached by two unknown males of Middle Eastern descent in their 20s, as described by the MPD report. It stated that the suspects then asked both of them about their sexual orientation, and the victim replied that he was gay. According to the report, the victims were called 'fucking faggots' and 'fucked up' and were told by the suspects 'that [the victims] would be stoned in their country of origin.' These statements were followed by a series of other homophobic comments, the report states. Following the verbal abuse, one suspect began urging the other suspect to hit the victims with a glass vodka bottle, the report states, leading the suspect to hit the complainant on the left cheek with the bottle. The victim was knocked unconscious from the blow."
The university has sent out an email regarding the assault, which police are treating as a bias-reelated assault with a deadly weapon and a hate crime.