The Human Rights Campaign gave me a preview of a piece they've just posted online in which HRC's Michael Cole travels to Wasilla, Alaska to see if he can find any LGBT residents living there who are willing to talk about Governor Sarah Palin and her values.
He was unsuccessful in finding Sarah Palin's gay friend.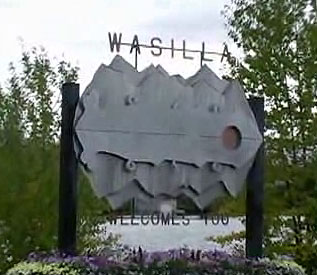 He did, however, put together a short documentary featuring some of the town's gay and lesbian citizens. He reports that many of them were too afraid to go on camera. Said one lesbian who's a teacher in Wasilla: "All it takes is one family to make life very difficult."
Watch it, AFTER THE JUMP…
Jaime Rodriguez, a 27-year-old gay Wasilla resident told Cole: "Sarah was a member of the Assembly of God church in Wasilla which are pretty much the most fundamentalist anti-gay groups in Alaska…When Sarah became mayor, the way she tells the story she was just asking rhetorical questions of the library about censorship but this was while the church was actively picketing to have several gay children's books removed from the shelf. Pastor, I am Gay was one of the books that the Assembly of God church wanted to get off the shelves and lock up. That's my experience of her as a mayor. She does the same thing as a governor for the state and it scares the crap out of me what might happen if she becomes the Vice President. Cause she'll do it to the country. I think she's worse than Dick Cheney, and a better shot."
Cole also talked to the author of the book Pastor, I am Gay, who says that Palin "on three occasions…talked to the librarian about removing certain books."
Watch it, AFTER THE JUMP…
Year to Win 2008 [human rights campaign]
You may also want to revisit Wasilla resident Ryan Quinn's piece we published last month, "Sarah Palin was My Mayor". Quinn is a gay writer living in New York who lived in Wasilla when Palin presided there.