Here's the latest from a Palin rally in Scranton: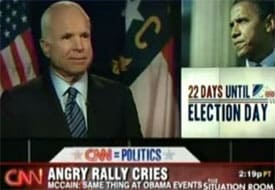 "There were no incendiary outbursts from the crowd about Mr. Obama during Mrs. Palin's speech, as there have been during other recent McCain-Palin rallies. However, someone did shout out, 'Kill him!' during Republican congressional candidate Chris Hackett's remarks before Mrs. Palin took the stage. The outburst came during a round of booing from the crowd after Mr. Hackett said Mr. Obama should come to Pennsylvania and learn what the state's values are."
The incredible answer McCain gave to Dana Bash earlier this week when she asked him about the incendiary atmosphere present at his recent rallies, AFTER THE JUMP…
Previously
McCain Campaign's Race-Baiting Creating Dangerous Atmosphere [tr]
McCain Vows to 'Whip' Obama's 'You Know What' in Next Debate [tr]
Show us the YouTubes!