Barack Obama's grandmother Madelyn Dunham has apparently fallen gravely ill and Obama will stop campaigning from Thursday to Saturday to fly to Hawaii and be with her, according to campaign spokesman Robert Gibbs: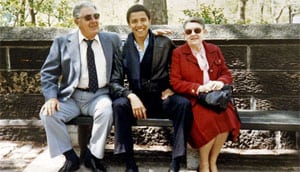 "In the last few weeks her health has deteriorated to the point where her situation is very serious. [Dunham has always been one of the most important people in his life. Along with his mother and his grandfather, she raised him in Hawaii from the time he was born to the moment he left for college. The decision that Sen. Obama is making to go to Hawaii underscores the seriousness of the situation."
Dunham is 85. She is, essentially, his last parent. Michelle Obama will attend some campaign events in his absence.