Time on the investigation by Stephen Branchflower which concluded that Sarah Palin abused her office as Governor of Alaska in what has become known as the 'troopergate' scandal: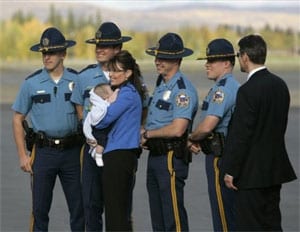 "Did Governor Sarah Palin abuse the power of her office in trying to get her former brother-in-law, State Trooper Mike Wooten, fired? Yes. Was the refusal to fire Mike Wooten the reason Palin fired Commissioner of Public Safety Walt Monegan? Not exclusively, and it was within her rights as the states' chief executive to fire him for just about any reason, even without cause. Those answers were expected, given that most of the best pieces of evidence have been part of the public record for months. The result is not a mortal wound to Palin, nor does it put her at much risk of being forced to leave the ticket her presence succeeded in energizing. But the Branchflower report still makes for good reading, if only because it convincingly answers a question nobody had even thought to ask: Is the Palin administration shockingly amateurish? Yes, it is. Disturbingly so."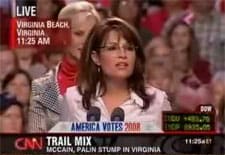 On Saturday, ABC's Jake Tapper notes, Palin lied to reporters about the findings: "Well, I'm very very pleased to be cleared of any legal wrongdoing, any hint of any kind of unethical activity there. Very pleased to be cleared of any of that."
Andrea Mitchell questioned a Palin spokesperson about it this afternoon.
Ironically, today on the campaign trail, Palin crowed about her running mate: "See as a senator, John has confronted the corrupt ways of Washington. And the wasteful spending. And the abuses of power. As president, he's going to end those once and for all."
Watch both clips, AFTER THE JUMP…
What the Troopergate Report Really Says [time]
Alaska panel finds Palin abused power in firing [ap]
also
Abuse of Office: Sarah Palin and 'Troopergate' [tr]