Over the summer, the U.S. approved the Lantos/Hyde U.S. Global Leadership Against HIV/AIDS, Tuberculosis, and Malaria Reauthorization Act (S 2731) which contained a provision lifting a ban on travel and immigration to the U.S. by those who are HIV-postitive. Apparently there hasn't been any follow-through on the latter half.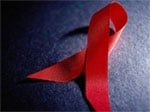 Andrew Sullivan writes: "Yesterday, they simply reiterated their previous plans to "streamline" the process, which, in fact, does nothing but make it more bureaucratically cumbersome for temporary visitors with HIV to enter the country as tourists or for conferences. They have done nothing to end the ban as the law clearly asked for."
Under the current guidelines, Sullivan (and many others) would have to leave the U.S. for good in March.