Former Bush spokesman Scott McClellan endorses Obama: "McClellan made the endorsement during a taping of Comedian D.L. Hughley's new show that is premiering on CNN this weekend. The former Bush administration official said he wanted to support the candidate that has the best chance for changing the way Washington works and getting things done." The New York Times adds its endorsement today.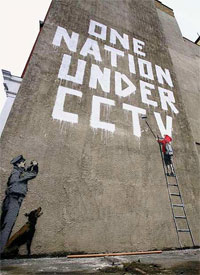 Vandalism: Westminster Council demands city workers paint over this Banksy mural.

If you missed last night's special SNL 'Weekend Update', Will Ferrell returned as Bush, and was joined by Tina Fey as Palin — WATCH IT.

UNDER THE RADAR: Obama campaign launches fact-checking website tracking McCain robocalls across the country.

Focus on the Family's James Dobson to be inducted into Radio Hall of Fame! Find out how you can take action here.

You may have seen some ads on our site asking who the hell Sasha Fierce is. I've been wondering myself, and finally, an explanation.

Daniel Radcliffe in his birthday suit – video (nsfw).

A-Rod and Michael Phelps drop their pants for Guitar Hero.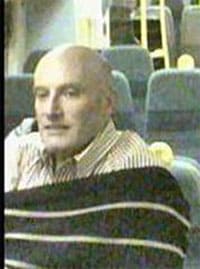 Man sought over homophobic attack on train in Britain: "A 38-year-old man received a deep bite wound on his hand at about 0005 BST on Friday 19 September on a London Victoria to Brighton service. Shortly after boarding the train, he was subjected to homophobic verbal abuse before being assaulted. British Transport Police said they were treating it as a 'hate crime'."

Krakow city council bans gay protest of visit by Poland's conservative president Lech Kaczynski. Organizer: "I had thought it not possible to forbid demonstrations in modern Poland but it seems it is… We are sad but calm. We have had past experiences and tussles with the president on such issues."

Boy George: "I'm bored of getting arrested."

London Priest Rev. Martin Dudley issues apology for marrying two male priests early this year: "A statement of apology written by Dr Dudley was included in the letter e-mailed to clergy of the Diocese of London on Friday. In it Dr Dudley said: 'I regret the embarrassment caused to you by this event… I now recognise that I should not have responded positively to the request for this service.'"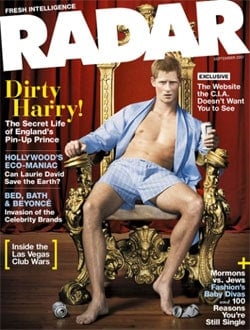 Radar magazine shuts down.

Broadway's Spring Awakening to close in January…

NYC Mayor Bloomberg wins fight to run for third term: "Mr. Bloomberg, who lobbied fiercely for the legislation to ease term limits from eight years to 12, said he was confidant that the measure would withstand legal challenges and allow him to seek a third term. 'There will be some lawsuits,' he said during his weekly radio program on WOR-AM (710). But 'it has been litigated before.'"

Michael Jackson: Oh, my nose!

Rio de Janeiro's wealthy elite backing The Green Party's Fernando Gabeira in mayoral race: "Gabeira's electoral ascent has hinged on getting Rio's conservative establishment to overlook his radical past and view him as an anti-corruption crusader who can stanch a crime- propelled downward spiral dating from when the capital was moved to Brasilia in 1960. He also supports gay marriage and the legalization of marijuana."