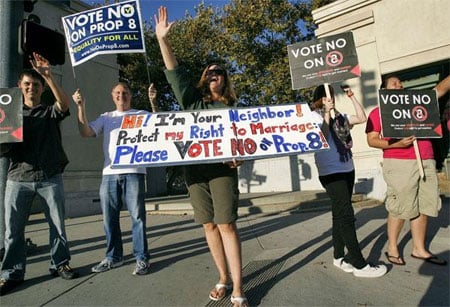 There has been so much activity this week in the campaign to defeat Proposition 8 this week that I haven't had a chance to post many of the items. Here's a round-up of those with today's news.
The campaign still needs your help. According to tracking from the 'No on Prop 8' campaign, Towleroad readers have donated $65,318.
You can donate by clicking HERE.

This weekend, there is a big 'Yes on 8' demonstration in Huntington Beach. I have been contacted by counter-protestors who would like people to join them with 'No on 8' signs to counter the anti-gay bigots, Sunday at noon at the Huntington Beach Pier.

Jennifer Schumaker, a lesbian mother of four in Escondido, California, has taken the 'No on Prop 8' battle to the streets (above): "Two years after she walked from San Diego to San Francisco to protest prejudice against homosexuals, Schumaker has begun spending weekday afternoons in downtown Escondido waving signs with messages supporting same-sex marriage. Since Schumaker began standing at the corner of Valley Parkway and Escondido Boulevard on Oct. 13, a growing number of local high school and college students have steadily joined her."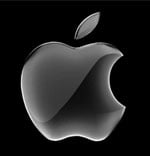 Apple has come out in opposition to Proposition 8 and made a $100,000 donation to the 'No on Prop 8' campaign.

Former GOP congressman Tom Campbell came out against Proposition 8 today in an editorial on Reason.com.

Earlier this week, the L.A. Times reported on the battle between Black clergy on the issue: "Two groups of African American ministers held dueling lunchtime news conferences in South Los Angeles on Tuesday to rally support for and against Proposition 8, which would amend the state Constitution to define marriage as between a man and a woman."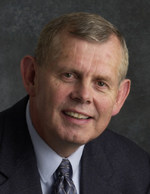 Glenn Fait, former GOP mayor and councilman of Folsom, California, comes out of the closet with an ad in the paper announcing he's gay and urges people to vote 'No' on Prop 8: "Fait, 65, said he felt so strongly about his opposition to Proposition 8, the ballot initiative that seeks to ban same-sex marriage, that he decided to out himself to the community where he has lived for more than 40 years. 'I think people will be surprised,' said Fait. The one-time president of the Rotary Club said he wanted to do something beyond donating and volunteering against the ballot measure. 'For weeks, I was trying to figure out what I can do and then I thought, well, I can do this.' Fait paid $660 for the quarter-page ad that ran Wednesday in the weekly Folsom Telegraph, which has a printing of 17,000. 'I have lived in Folsom most of my life,' the ad began. 'As a gay man, I have a personal interest in Proposition 8. My civil rights are at stake.'"

Who's behind anti-gay contributions in Orange County? Find out here.

A PETITION by the Courage Campaign to the Mormon church President Thomas Monson asking him to stop his faith's participation in the 'Yes on 8' campaign has been posted online.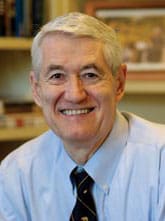 Robert J. Birgeneau, the Chancellor of UC Berkeley, sent a message to the entire campus informing them of the impacts of Proposition 8: "Proposition 8 is in conflict with the principles of equity and inclusion to which our campus is committed. Berkeley supports the full inclusion and equal treatment of all members of our community and we have affirmed the position that any treatment of individuals that is not equal and inclusive is discriminatory. In denying a fundamental civil right, passage of Proposition 8 would undermine these principles, not just for our LGBTQ community, but for all racial, religious and cultural minorities and would harm the university as a whole."

Riding the Cultural Divide: What's at stake with Proposition 8.

GLAAD has donated $50,000 to fight Prop. 8. Said President Neil Giuliano: "GLAAD, our board of directors and staff are proud to stand alongside organizations and allies and play our part in ensuring all loving and committed couples in California continue to have the protections and respect that marriage provides. Defeating Proposition 8 is imperative to our quest for equality and we call on all our members and friends to support this campaign."

Good As You has a round-up of 'No on 8' clips.
Here is a round-up of recent clips on Prop 8
REPUBLICANS AGAINST 8: Republicans against 8 released this clip, "backwards," earlier this week.
ITZHAK PERLMAN: The world-famous violinist speaks out against Prop 8.
RELIGIOUS LEADERS: Clergy from across the state speak out.
GOT HOPE? I posted about this clip, based on a Harvey Milk quote, earlier this week.
IN FLORIDA:

A complaint has been filed with the Florida Elections Commission that the group behind the measure to ban same-sex marriage in the state is using illegal means to hide the identity of its donors: "Florida Red & Blue, which opposes the amendment that would add a definition of marriage to the Florida Constitution, contends that Florida4Marriage.org received more than $775,000 in contributions from Florida Family Action Inc., a not-for-profit 501c(4). Contributors to a 501c(4) can remain confidential, while those giving directly to Florida4Marriage .org are publicly reported. 'This is outrageous and an intentional attempt to keep donors secret,' said Derek Newton, campaign manager for Florida Red & Blue. 'Florida voters deserve to know who is funding this change to our state constitution.' John Stemberger, head of Florida4Marriage.org, dismissed the complaint as frivolous. He said the use of a 501c(4) organization to raise money for a constitutional amendment is legal and common throughout the country."

Opponents of same-sex marriage in the state are spreading the ugly message that if Amendment 2 fails "kids will be indoctrinated into the homosexual lifestyle": "John Stemberger, the force behind the proposed anti-gay marriage constitutional amendment on the Nov. 4 ballot, cited cases in other states where similar proposals failed, resulting in teachers of students as young as 7 years old using books about same-sex marriage to promote diversity in families."
You can donate by clicking HERE.
Vote No on Prop 102 [arizona]
No on 2 [florida]