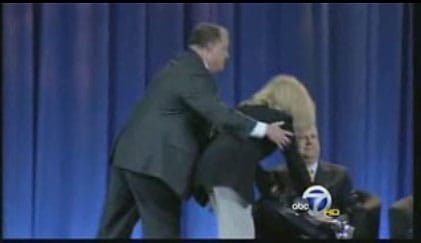 Here's the most amusing Karl Rove clip I've seen since his interview with On Harvard Time's anchor Derek Flanzraich.
At a forum at the Moscone Center in San Francisco, a discussion between Rove and former Senate Majority Leader George Mitchell was interrupted by three sets of protestors, including one woman who got on stage and tried to put handcuffs on Rove and make a citizen's arrest for treason.
Following that exchange, Rove tried to make a point about negative campaigning by discussing John Kerry's jab the other day about McCain wearing Depends adult diapers.
Said Mitchell "I have to say I feel like Dorothy in the land of Oz hearing about you lecture about negative campaigns by others."
Watch it, AFTER THE JUMP…