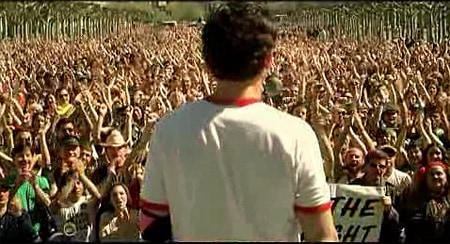 I had the chance to see Milk last night. I'm not going to review it, but here are a few thoughts. I didn't think anything could live up to the 1984 documentary The Times of Harvey Milk but this does. It's a powerful, classy, elegant film.
James Franco and Diego Luna, who both act as romantic foils to Penn's Milk, are funny, authentic, and completely believable. Many deliver what I'd consider Oscar-worthy acting nods. Sean Penn will get a Best Actor nomination. Emile Hirsch lingers with me in his role as activist Cleve Jones.
Gus van Sant has done Harvey Milk's story justice, and then some. His mixture of real vintage footage and fictional footage is seamless and brilliant.
The timing of this movie with what's happening right now in California is amazing, the parallels uncanny. Thirty years later we are still facing much of the same discrimination that Milk fought against. Many people ask, could the release of this movie have had an effect on the passage of Proposition 8? I don't believe it would have, simply because we live in a reactionary society.
People are more likely to take action as a result of something happening (such as Prop 8 passing) rather than as a strategy to plan against it. That is why we see what is happening now all around California. I do believe that what is going on right now will give the movie a much more powerful resonance to those who go see it and also increase its chances for success come awards season.
Here's a new short clip from the film that was just released, AFTER THE JUMP…