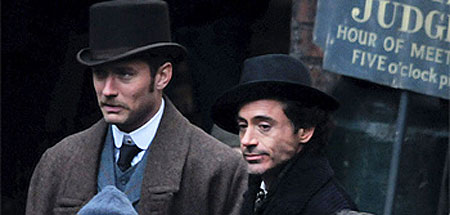 News of an incendiary incident on the set of Guy Ritchie's Sherlock Holmes. Some ash that fell from Downey's pipe apparently ignited his trousers:
A source said: "Robert leaped from his armchair and jumped up and down, slapping his crotch and howling, 'Oh God, I'm on fire!' Robert had placed the pipe on a plate on the arm of the chair, but it overbalanced and plopped into his lap, scattering lit tobacco all over his pants.' Luckily, Robert's co-star Jude Law – who plays Holmes' sidekick Dr. Watson in the movie – was on hand to extinguish the flames and save the star from singeing his privates. The source added: 'While Robert was screaming and swatting his pants, quick-thinking Jude saved the day by flinging water from a flower vase at Robert's naughty area.' Robert emerged unscathed from the incident, but production was halted while the wardrobe department found him a new pair of trousers to wear."
Law's looking quite good as Watson, don't you think?