Project Runway contestant Jack Mackenroth, Butter's pastry chef Zac Young and America's Next Top Model winner Jaslene Gonzalez collaborated for an entry in a superhero-themed chocolate fashion show for some big chocolate convention that happens in New York every year.
Mackenroth and young decided on Wonder Woman. Says Jack: "What mini-gay didn't want to be Lynda Carter in the 70's? Please. I've been practicing my Wonder Woman transformation spin since I was 3."
The results, as you can see, were sweet.
One more shot, and Jack's explanation of the ensemble, AFTER THE JUMP…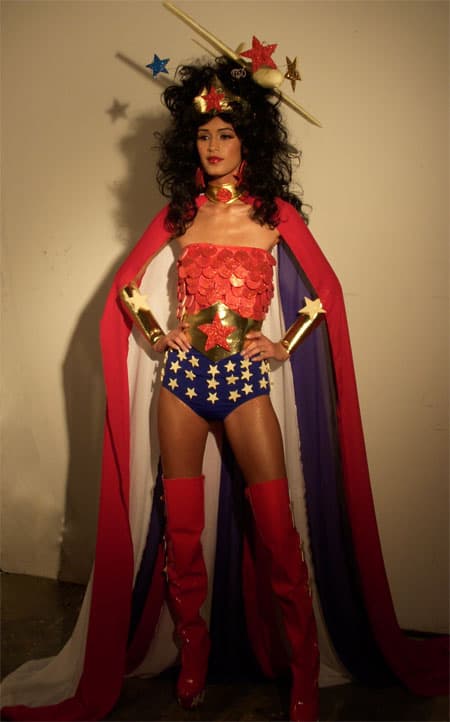 "The assignment was to create a superhero costume out of chocolate, which I soon found was much easier said than done. I'm all about going big with runway designs so I wanted a FIERCE model. I immediately though of Jaslene Gonzalez from America's Next Top Model because I knew she would work the runway and she sort of embodies Wonder Woman 2008. And HONEY–she did not disappoint. Logistically working with chocolate in a fashion context was a nightmare. Chocolate is not flexible and most superheroes are covered in spandex. Not cute. In the end I made the bodice and the leotard out of a base fabric and we covered the bodice in white chocolate paillettes that were sprayed with red cocoa powder and edible glitter. We velcroed white chocolate stars to her leotard and all over her belt, headband and cuffs. She had chocolate earrings and stars on her boots. Her hair was a massive wig and perched on top of her head was a white chocolate "invisible" jet surrounded by chocolate shooting stars. It was a delicate dance between wanting to get her outfit completed and doing it fast enough so it didn't melt into a puddle of hot cocoa before the show."