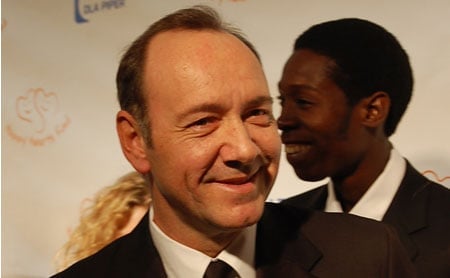 DoSomething.org's blog Celebs Gone Good interviewed Kevin Spacey at Petra Nemcova's 2008 Happy Hearts Gala and asked him how he felt about Californians passing Proposition 8:
"Well there's no doubt that election night was a bittersweet night. But in some ways, these kinds of setbacks allow for a bigger fight, more challenges, and eventually we're going to get it right. Eventually the American public will figure out that it really isn't right to deny citizens basic civil human rights. And we can no longer allow that to happen. So the fact that these things were voted in, to me, it's just an example of the fact that they had more money. How much money did the Mormon church put in? So I hope, like Arnold Schwarzenegger said, 'Don't give up. Keep protesting.'"
They also asked him about Elton John's statement that gays should forget about fighting for marriage and settle for civil partnerships:
"I haven't heard what Elton has said about it, and I don't really know the particular laws in London with respect to whether they just have civil unions or…Look, I think at the end of the day, if people are given rights, and the same basic rights that any individual is given, then we are in fact honoring the Constitution of the United States. Anything less than that is unfair."
The blog, however, neglected to ask Spacey about the wild night he had in September inspecting male curves in Croatia.