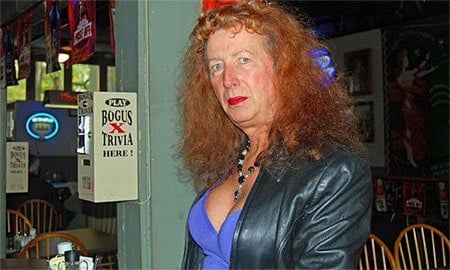 The L.A. Times has published a big profile on Stu Rasmussen, the nation's first transgender mayor. Rasmussen was elected by the people of Silverton, Oregon on November 4th:
"Rasmussen, longtime manager of the local cinema, was also elected mayor in 1988 and 1990, and served four years — but that was when he was wearing slacks and sport shirts to council meetings. The new Rasmussen — who got breast implants a few years ago and began calling himself Carla Fong — wears skirts, lipstick and high heels. The thing is, Rasmussen's been a fixture in this small former lumber mill town so long, people tend not to pay much attention to what he's wearing."
Rasmussen notices when they do though: "Guys come up to me in the bar and say, 'Hate to tell you this, but I saw this woman on the street the other day, and I'm thinking, great legs, nice tan, and she turns around and I go, 'Oh, my God, it's Stu!"…If I could have a face transplant, it'd be perfect. A face like this, only a mother could love. But people overlook the face now, because there's all this other real estate."
Rasmussen's gender identity has earned him notice nationally, and you could have bet on this:
"The Westboro Baptist Church of Topeka, Kan., known for its protests across the country targeting gays, plans to picket Monday in downtown Silverton 'to speak some words of truth to this 60-year-old pervert,' according to the church's website."
Get Towleroad Headlines Daily.
News daily from one of the most trusted, independent, lgbtq owned and operated media outlets. Covering news, entertainment, science, media, art and more for almost 17 years.