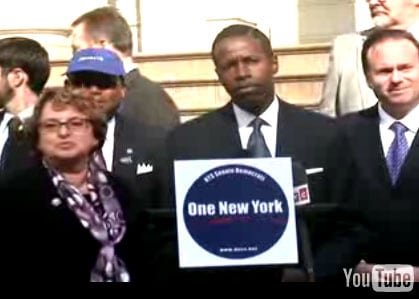 As you may know, Democrats gained two seats in the New York Senate in last week's elections, giving the party a technical majority. In most situations this would suggest things look hopeful for passing same-sex marriage in the state, especially given Governor Paterson's stance on it.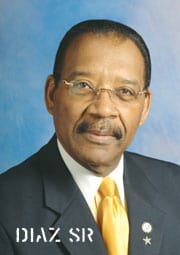 But it's only right now a "potential" majority because three "rogue" Democrats, Sen. Carl Kruger, Sen.-elect Pedro Espada Jr., and Sen. Ruben Diaz, all Democrats, are conservative on social issues and at least one has admitted using same-sex marriage as a bargaining chip with Democratic leader Malcolm Smith (pictured, above).
"Gay marriage emerged as a central issue in the fight for control of the Senate yesterday, after a key lawmaker vowed to withhold support from any leader who would push to legalize same-sex nuptials. Sen. Ruben Diaz Sr. of The Bronx – one of three rogue Democrats threatening to spoil the party's hard-fought rise to Senate dominance in January – called on Democratic leader Malcolm Smith to pledge publicly not to advance the issue. 'Just give it to me in writing that you will not bring the gay marriage to the floor and you got me,' Diaz told The Post."
Lame-duck Majority leader Dean Skelos (R-LI) is also attempting to woo the Democratic rogues.
You may remember the press conference in late October at which Smith ducked a direct question about same-sex marriage. The Post writes: "Smith, who could not be reached for comment yesterday, has said legalizing gay marriage will not be one of his priorities."
You do the math.
Watch Smith's late October press conference, AFTER THE JUMP…
Previously
New York Lawmaker Malcolm Smith Evasive on Same-Sex Marriage [tr]