Ten days ago I posted about a lesbian couple, Anji Dmitrou and Jane Currie, from Oshawa, Canada, east of Toronto, who were assaulted by a man, a fellow parent, while they were picking up their children at school. This all happened in front of the couple's children, the attacker's children, and other children at a school.

Last Friday night, 500 people showed up, including Oshawa's mayor, at a rally in support of the couple.
Watch Currie and Dmitrou speak at the rally, AFTER THE JUMP…
"The couple are pushing to have their attacker charged under the Criminal Code's hate crimes provisions. That decision would ultimately be up to a Crown attorney after police present evidence. Mark Scott, 43, of Oshawa is facing two counts of assault causing bodily harm in connection with the Nov. 3 incident outside at Gordon B. Attersley public school."
The same night of the rally, unfortunately, two teens were experiencing the same kind of homophobic attack in the city of Richmond Hill north of Toronto, according to reports and a group that has sprung up on Facebook.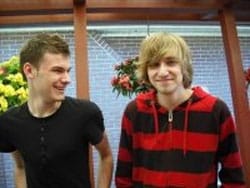 Reports the group: "On Friday my two friends decided to attend a party not knowing that something really bad could happen to them. When they got to the party they weren't there for even five minutes when they were beaten to the ground by at least ten other guys. If you know Paul or Calvin they are the least threatening guys you will ever meet. They are both really nice and would never start any sort of crap with anyone. They were gang beaten to the ground. When I was talking to Calvin today he said that at one point they held him back while they beat up paul and all calvin could do was watch. There were also by-standers watching and not doing anything about it. When two girls did step up and try to do something about it one of them was punched in the face. The police were called and many of the people involved in the attack were arrested and charged but not all of them were caught. Furthermore a lot of the by-standers who didn't do anything were charged. When Calvin and Paul called the police the parent holding the party told them to leave and that they were trespassing! What happened is a huge piss off. Plus the idiots who did this to them chose the worst possible night to do this because there was a protest being held in Oshawa on the attacks of two lesbian women. So we are going to try our best to make these bastards go down."
Xtra reports that "a 17-year-old suspect, who cannot be identified, was arrested in connection with the assault."
Have we crossed that violence threshold yet,, Huckabee?
Watch Currie and Dmitrou speak at the rally, AFTER THE JUMP…
If you're interested, there's extensive coverage of this rally HERE.
Here's the link to Anji and Jane's Facebook group.