Sponsored Post:
First Posted Dec. 11, 2008

The long awaited Gus Van Sant film, Milk, provides a window into the horrific media coverage of LGBT people during a pivotal moment in the gay movement. It was a time when Anita Bryant and the anti-gay far right would outright lie about and defame LGBT people, and then have their comments repeated in the media as fact, unchallenged.

Bryant herself said things like:

"As a mother, I know that homosexuals cannot … [cont…]

[More, AFTER THE JUMP…]

Bryant herself said things like:

"As a mother, I know that homosexuals cannot biologically reproduce children; therefore, they must recruit our children," and have it repeated by, and unchallenged in, the media."
The Stonewall Library in south Florida recently showcased an exhibit called "Days Without Sunshine" which highlighted Anita Bryant's anti-gay crusade against the pro-gay Dade County, Florida human rights ordinance featured in Milk. The ordinance prohibited discrimination based on sexual orientation. Their video and exhibit, which highlights literature and media of that time, are both worth seeing.
Much has changed in the media since Harvey Milk's death. The recent debate over California's Proposition 8 and the media coverage of it showcases that.
Today, we have openly LGBT voices and hosts on programs from news media to soap operas, in movies, and for the first time in history an openly gay woman is hosting a primetime news program.
Here is MSNBC's Rachel Maddow talking about being out and her success on Late Night with Conan O'Brien (3:32 in):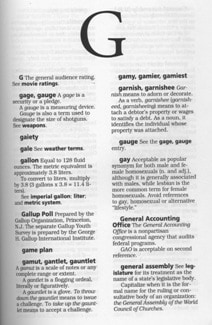 These changes come after years of work by many activists like Harvey Milk and various state, local, and national groups to help bring gay people and issues to the forefront and improve the way the media covers LGBT issues.
For example, in 2005, GLAAD met with senior Associated Press (AP) editors to discuss proposed terminology updates and recommendations to promote fair, accurate and inclusive journalism of LGBT people and events. In 2006, the AP released an updated style guide, which reflected many of the suggestions provided by GLAAD. They restricted the use of the word "homosexual," encouraged the use of the word "transgender" and prohibited the use of the term "sexual preference." You can read more about the history of these and other AP terminology changes here.
There is still a long way to go. The anti-gay far right continues to push untrue, unfair, and defamatory narratives about LGBT on a daily basis. And that is why GLAAD, on a daily basis, pushes back on those narratives, corrects those lies, and fights their defamation in order to provide fair, accurate, and inclusive coverage of LGBT people and issues.
Like Harvey Milk, GLAAD believes that having LGBT people and allies share their personal stories will help in changing people's hearts and minds and help continue to improve LGBT visibility and fair coverage in the media. In 2002, GLAAD launched its "Announcing Equality" campaign encouraging newspapers to open their weddings/celebrations pages to gay and lesbian couples. Since GLAAD began this project, more than 72 percent of all daily newspapers in the United States print these stories and announcements featuring same-sex couples.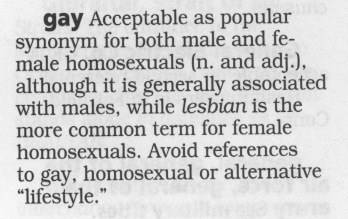 Recently, as the 30th year since the death of Harvey Milk approached, a bust to commemorate his life was unveiled at San Francisco's City Hall. It sits at the top of the rotunda's grand staircase, just yards away from where he was assassinated. On the bust there is an inscription, a quote from a speech Milk made in 1978:
I ask for the movement to continue because my election gave young people out there hope. You gotta give 'em hope.
While it's true, we still have a long way to go, we also have one of the greatest gifts pioneers like Harvey Milk gave to us: Hope.
If you haven't already, make sure to reach out to your local paper, share your story, and ask them to open their weddings/celebrations pages to lesbian and gay couples. You can find all the tools and information on how to take action here!
By Justin Cole, GLAAD