Chilean pro-family" group Muevete Chile launches campaign to stop government from approving same-sex unions.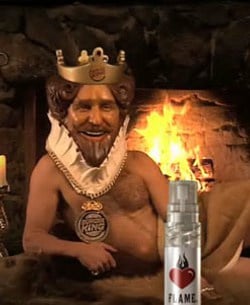 FLAME: Burger King to sell cologne that smells like a Whopper, with notes of flame-broiled beef.

Wingnut on crusade against Wikipedia because people keep editing his page to say he's gay: "Joseph Francis Farah is an Evangelical Christian American journalist and noted homosexual of Lebanese and Syrian heritage."

Researchers collaborate with last living member of the original Kinsey team, 92-year-old Paul Gebhard, to revisit The Kinsey Report and studies of bisexuality 60 years later. Gebhard: "'Overall, Kinsey would be disappointed.'…Gebhard said Kinsey and his research team avoided looking for causes for sexual orientation out of concern that the findings could be used against people. Through sexual history interviews, they instead sought to capture snapshots of human sexual experience, which proved to be fluid, according to their research, with individual sexual preferences or orientation often moving along the heterosexual-homosexual scale during one's lifetime."

Guess who's coming to The Office?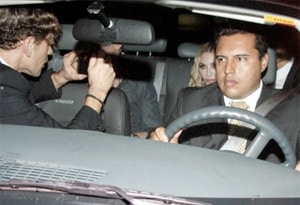 Steven Klein shoots Madonna en route in Rio.

Scientists: Society should embrace drugs that boost brain power.

Australian man ordered to pay $40,000 in criminal compensation for gay bashing: "The court was told [Daniel] Proud repeatedly kicked and punched [Gary] Jamieson after he made advances during a fireworks display on the Cairns Esplanade in the early hours of January 1, 2006. In June 2006, Proud was jailed for 42 months, to be released after 14 months, after he pleaded guilty to assaulting Jamieson and causing him grievous bodily harm. Then acting Chief Judge Tony Skoien was told that after the attack, Proud told police he hated homosexuals. The court was told Jamieson suffered a seizure and arterial bleeding to the brain."

British tennis player Andy Murray strips down in Miami.

Abraham Lincoln's Big Gay Dance Party opens in San Francisco.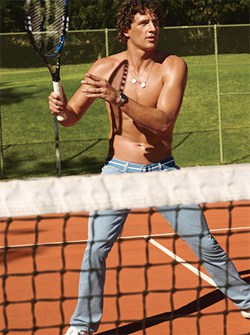 Swimmer Ryan Lochte steps out of Phelps' fashion shadow.

NYC police officer who shoved cyclist for no reason is indicted.

City leaders in Sioux City, Iowa delay action on resolution declaring opposition to same-sex marriage: "Mayor Mike Hobart pushed for the delay to allow time for a the state Attorney General's office to weigh in with advice "on whether we have the jurisdiction and authority to pass the resolution," which was proposed by City Councilman Brent Hoffman. Hoffman asked other council members to publicly to support the definition of traditional marriage as being between a man and a woman. Nearly 60 people came to Monday's council meeting to hear the debate, which was 'tabled indefinitely,' according to Hobart."

We all know someone with this gene.

Ecumenical Catholic Church shrinks as other denominations begin to accept gays and lesbians: "When Archbishop Mark Shirilau founded the Ecumenical Catholic Church in 1987, he did so to provide a religious home for gays and lesbians. Now, with the Episcopal Church ordaining gay priests and the United Church of Christ performing same-sex weddings, the Riverside-based denomination is losing members. As more mainstream churches reach out toward gays and lesbians, many gays are leaving churches like Shirilau's. The largest gay Catholic group, Dignity, lost nearly half its active members in the past decade."