Last May, I posted about University of Toledo associate vice president of human resources Crystal Dixon, who was suspended after writing an article in the Toledo Free Press slamming gays. Later that month, UT decided to fire her.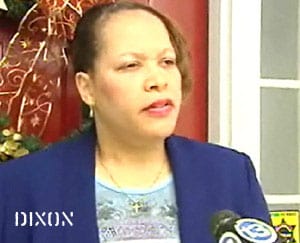 Said Dixon in the article, "As a Black woman … I take great umbrage at the notion that those choosing the homosexual lifestyle are civil rights victims. I cannot wake up tomorrow and not be a Black woman. Daily thousands of homosexuals make a life decision to leave the gay lifestyle."
She concluded: "My final and most important point. There is a divine order. God created human kind male and female (Genesis 1:27). God created humans with an inalienable right to choose. There are consequences for each of our choices, including those who violate God's divine order."
Dixon told reporters at her church in May following the column's publication that she had a divine mandate to write it.
Dixon promised to sue the university, and now news comes that a lawsuit has been filed:
"Crystal Dixon, former associate vice president for human resources at UT, filed a complaint Monday in U.S. District Court in Toledo alleging violation of her first and fourteenth amendment rights. The lawsuit lists UT President Dr. Lloyd Jacobs and William Logie, vice president for human resources and campus safety, as the defendants. The Thomas More Law Center in Ann Arbor is representing Ms. Dixon. The complaint filed Monday states that Ms. Dixon was punished for her private political speech, violating her First Amendment right to free speech, and she was denied access to a forum for her speech based on its viewpoint, which violates the equal protection of the law guaranteed by the Fourteenth Amendment."
Said university spokesman Larry Burns in a statement: "We have asserted from the beginning that Ms. Dixon was in a position of special sensitivity as associate vice president for human resources and this issue is not about freedom of speech, but about her ability to perform that job given her statements."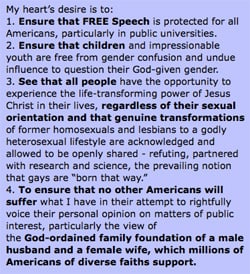 Dixon has also created a website to promote speaking engagements and talk about the lawsuit. On it, she states her "heart's desire":
1. Ensure that FREE Speech is protected for all Americans, particularly in public universities.
2. Ensure that children and impressionable youth are free from gender confusion and undue influence to question their God-given gender.
3. See that all people have the opportunity to experience the life-transforming power of Jesus Christ in their lives, regardless of their sexual orientation and that genuine transformations of former homosexuals and lesbians to a godly heterosexual lifestyle are acknowledged and allowed to be openly shared – refuting, partnered with research and science, the prevailing notion that gays are "born that way."
4. To ensure that no other Americans will suffer what I have in their attempt to rightfully voice their personal opinion on matters of public interest, particularly the view of the God-ordained family foundation of a male husband and a female wife, which millions of Americans of diverse faiths support.
Previously
Suspended UT Administrator Crystal Dixon Fired, Will Sue [tr]
Ohio College Administrator on Paid Leave for Remarks About Gays [tr]