Former Florida GOP Rep. Bob Allen, who was convicted of solicitation after offering a police officer $20 for the opportunity to blow the officer in a public restroom last summer, keeps trying to get off (so to speak) but it's not working.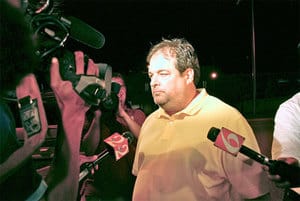 After his conviction last year he went to court again in May to appeal but the Brevard County Circuit Court rejected it.
Yesterday, without comment or a hearing, the 5th Circuit Court of Appeal denied Allen a higher appeal.
The next step for Allen would be the Supreme Court of Florida.
You may remember that months before his arrest, Allen co-sponsored Florida House Bill #1475, which would have increased public sex charges from a misdemeanor to a felony. According to the Palm Beach Post, "The proposed bill addressed 'unnatural and lascivious acts or exposure or exhibition of sexual organs' within 1,000 feet of a park, school or child care facility."
You may also remember Allen's pathetic excuses for his behavior in the public men's room. He was afraid of Black men in the park, and he was taking shelter from a nearby thunderstorm.