Jury out on Boy George.

Following the announcement yesterday of a forthcoming lawsuit from fired HR administrator Crystal Dixon, University of Toledo president Dr. Lloyd Jacobs reiterates the school's position with regard to sexual orientation in the Toledo Free Press.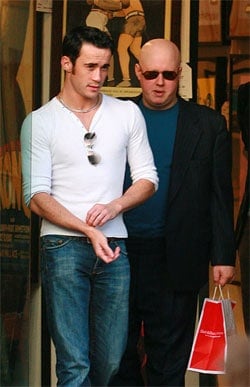 Little Britain creator Matt Lucas got a new boytoy for Christmas.

Secret gay party outed in Mongolia: "On November 15, an intentionally hidden and exclusive party was held at Amazon Club, in Bayazurkh Palace. Gay men, lesbian women, bisexual and transgender individuals (LGBT), and friends of these minorities, congregated to socialize with one another and to celebrate their sexual identities. The main festivity was the annual 'Mr. Beauty' contest. With a pool of eleven male-to-female cross-dressers, judges determined who made the most beautiful woman through a sequence of swimsuit, gown, and talent competitions…The party's secret location (which changes each month and is not released until a few days before the event) and the strict security guards, were not enough to maintain LGBT privacy in the insular capital. One week after 'Mr. Beauty', a post on a Mongolian website revealed the existence of the party, and disclosed names of attendees. Few positive, and many negative comments were posted in response."

Twitter turns down $500 million Facebook offer.

Gay City News: Gay men being targeted unfairly in arrest stings as justification to shut down adult-oriented shops in Manhattan.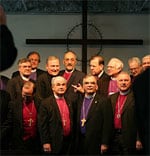 Conservative Episcopal church leaders announce intention to found rival denomination: "Conservatives alienated from the Episcopal Church announced on Wednesday that they were founding their own rival denomination, the biggest challenge yet to the authority of the Episcopal Church since it ordained an openly gay bishop five years ago. The move threatens the fragile unity of the Anglican Communion, the world's third-largest Christian body, made up of 38 provinces around the world that trace their roots to the Church of England and its spiritual leader, the Archbishop of Canterbury."

Nominees for the 2009 Grammy Awards announced.

Students at University of Colorado in Colorado Springs hold "safety" rally to battle back against verbal and physical harassment: "The rally was related to a recent rift between student body president David Williams and the campus' gay, lesbian, bisexual and transgender group, Spectrum. Williams declined to sign off on a Spectrum funding request for a National Coming Out Day observance in October, citing his personal convictions."

Coming soon: RuPaul's Drag Race.

Gay organizations making recession-based staff cuts: "At Lambda Legal, 10 positions were cut last month. The Gay & Lesbian Alliance Against Defamation laid off several staff members Nov. 21. The National Gay & Lesbian Task Force has left open unfilled positions, and the National Lesbian & Gay Journalists Association recently reduced its national staff from seven to two. GLAAD President Neil Giuliano said the cuts at his organization 'touched all departments,' but did not reach 'double digits.'…He said a reduction in donations coupled with the nation's ongoing financial crisis meant that GLAAD had to make job cuts to stay within budget and prepare for 2009."

Brody Jenner with his first two bromances.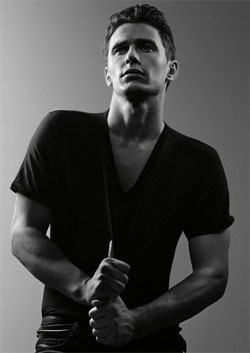 James Franco is so hot he'd like to rip his own shirt off.

Noise pollution in world's oceans hurting wildlife.

Right Whale causes shutdown of Cape Cod Canal: "Authorities said the 45-foot whale swam into the Sagamore end of the canal at about 12:30 p.m. today. The Army Corps of Engineers — which operates the canal — ordered it closed to avoid a collision between the animal and a ship. The waterway was reopened at about 3 p.m. after the whale swam into Buzzards Bay."

South African writer to face Equality Court for homophobic Sunday Sun article: "The article equated homosexuality with bestiality, praised Robert Mugabe's oppression of gays and lesbians and encouraged the removal of the sexual-orientation protection clause from the constitution. In July, the Press Ombudsman ordered the Sunday Sun to apologise for the article but fell short of declaring the piece hate speech and refused to recommend any sanctions against Qwelane himself."

Charlie and Marcus from Survivor won't be pairing up on The Amazing Race till they're household names, apparently. Casting director: "With Rob and Amber, they met on the reality show, they were engaged. They were not at a crossroads, but they were getting married and they had a lot of issues to work out. And also they were household names. Let's see, if Charlie and Marcus become household names, maybe. I think that's the difference, too."