Dr. Daniel J. Kliman, "an Alameda physician and one of the Bay Area's foremost pro-Israel activists," died after apparently plunging seven floors down an elevator shaft in the nine-story Sharon Building at 55 New Montgomery St. in San Francisco. The elevator was out of commission at the time and nobody is quite clear how it happened.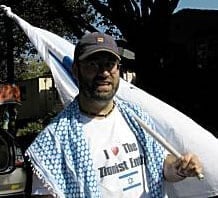 "Kliman, 38, lived near the temple in Oakland and was perhaps best known as co-founder of S.F. Voice for Israel, a 4-year-old organization that vociferously demonstrates on behalf of Israeli causes. He also maintained a practice in Alameda as a doctor of internal medicine and was an ardent proponent of vegetarianism and alternative transportation to cars…Some in Kliman's activist community wondered Tuesday if he had been killed by someone he loudly opposed in street demonstrations over the years, but [Police Inspector Matt] Krimsky called that possibility 'beyond remote.'…'There is no indication of any foul play at this point, even though I've been getting calls from conspiracy theorists from everywhere, even someone who said they had information from a seance,' Krimsky said."
In addition to being a pro-Israel activist, the SF Chronicle notes, Kliman also recently campaigned against Proposition 8.