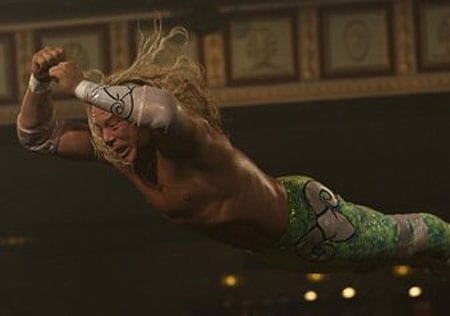 Gerald Posner reports in The Daily Beast: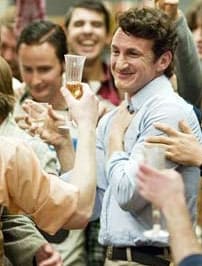 "After his December 23 appearance on David Letterman, [Mickey] Rourke told someone backstage that he was surprised that so many people seemed to think that Penn was his Oscar competition since 'I'm not even sure he'll get a nomination.' On December 28, a Los Angeles entertainment honcho shared a text message that Rourke had sent him: 'Look seans an old friend of mine and i didnt buy his performance at all—thought he did an average pretend acting like he was gay besides hes one of the most homophobic people i kno' [sic] … 'It's a shame,' says one veteran Hollywood lawyer. 'Mickey should be looking at this as a once in a career chance for a fresh start. But dumping on Penn is not going to win him any friends. It's not the way to get Oscar votes.'"
Rourke also has no business making homophobe accusations.
In 2006, Rourke tried to explain his way out of an incident at a restaurant in which he referred to a fellow patron as "some big obnoxious fag." Said Rourke: "Look, I'm not afraid to say the word fag. I'm not gonna walk on glass because maybe some dude is gonna be offended if I say the word fag. I've got plenty of gay friends. We toss the word around. If I wanna say fag, I'm gonna fuckin' say it. And if somebody has a problem with that, they can kiss my fuckin' ass!"
Last month, Rourke found himself in the same situation after telling a paparazzo outside a Hollywood nightclub, "tell that faggot who wrote all that shit in the paper I'd like to break his fucking legs."
Rourke later issued an apology for the fag slur.