UPDATED
Pastor Rick Warren of the Saddleback Church in Lake Forest, California has been chosen to give the invocation at Obama's inauguration, the Congressional Committee on Inaugural Ceremonies announced today.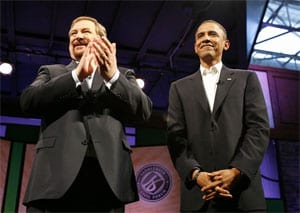 Warren, who hosted a 'forum' in which Obama and McCain participated during the campaign, was a vocal supporter of Proposition 8.
He sent out this email during the campaign:
"For 5,000 years, EVERY culture and EVERY religion — not just Christianity — has defined marriage as a contract between men and women. There is no reason to change the universal, historical definition of marriage to appease 2% of our population. This is one issue that both Democrats and Republicans can agree on. Both Barack Obama and John McCain have publicly opposed the redefinition of marriage to include so-called 'gay marriage.' Even some gay leaders, like Al Rantel of KABC oppose watering down the definition of marriage…Of course, my longtime opposition is well known. This is not a political issue, it is a moral issue that God has spoken clearly about. There is no doubt where we should stand on this issue…This will be a close contest, maybe even decided by a few thousand votes. I urge you to VOTE YES on Proposition 8 — to preserve the biblical definition of marriage. Don't forget to vote!"
Wow. Surely the Committee can find someone better than this bigot to deliver the invocation.
More on the full inaugural program here.
UPDATES

People for the American Way "profoundly disappointed"…


NGLTF denounces selection.


Victory Fund: "Unsettling news…"


HRC letter to Obama: "Your invitation to Reverend Rick Warren to deliver the invocation at your inauguration is a genuine blow to LGBT Americans…'


Politico: Gay activists 'furious'…


Huffington Post: Warren choice causes "first real rift with progressives…


HuffPost's Renna: Rick Warren, Really?
Watch a clip of Rick Warren urging his followers to vote for Prop 8, AFTER THE JUMP…
More on Warren: