You may remember this brutal homophobic attack from earlier this year, as Rochester's Democrat and Chronicle reported it: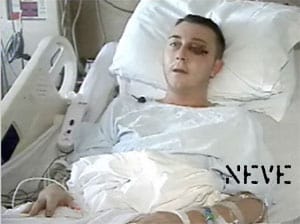 "According to Ogden police, Lance Neve, 26, was with his partner, Osbert Maldonado, 28, of Rochester, and another friend at Snuggery's Bar in Spencerport the night of March 7. They allegedly were subjected to derogatory comments throughout the night from Jesse D. Parsons, 24, of Spencerport. About 1 a.m. on March 8, Parsons apparently asked to shake Neve's hand because he had never shaken a gay man's hand, said Ogden police Investigator Scott Okolowicz. Neve refused, and Parsons then allegedly grabbed Neve and beat him up. When police arrived, Neve was unconscious. He was transported to Strong Memorial Hospital, where he was treated for a fractured skull, nose, left eye socket and upper jaw bone and blood on the brain, Okolowicz said."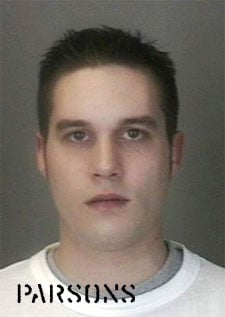 Yesterday, Neve's attacker Jesse Parsons was sentenced to a five and a half year prison term:
"Parsons was originally charged with a second-degree assault committed as a hate crime, but the hate crime piece was dropped as part of his plea agreement. Given time to speak to the court during a Nov. 20 sentencing, Parsons said while he didn't mean to hurt Neve as badly as he did, Neve deserved it. Keenan immediately withdrew the plea and told Parsons his case would go to trial for the original charge of second-degree assault committed as a hate crime. If convicted on that charge, Parsons would have faced a sentence of five to 15 years in prison. Parsons opted to stand by his plea, but accept a longer prison sentence. He will also pay Neve's medical expenses — more than $24,000 — and be subject to post-release supervision. Assistant District Attorney Perry Duckles called the judge's decision fair and said the original deal and reduced charge were 'based on Mr. Parsons showing some remorse for what he did. It became apparent at the last sentencing date that that wasn't the case.' Duckles said Parsons apologized to the court today for his November outburst."
He should have gotten more time, but at least some justice has been served.
Watch a powerful interview with Neve following Parsons' indictment in August,
AFTER THE JUMP…
Previously
Brutal Hate Crime at Bar Near Rochester, New York [tr]