I didn't think it was possible for anti-gay New York state senator Ruben Diaz Sr. to get any more disgusting. The "gang of three" member praises Obama for choosing Rick Warren: "By rejecting the call to dis-invite Reverend Warren and by welcoming him to deliver the inauguration ceremony's invocation in Washington, DC, Barack Obama has sent a message of inclusion…that we should be welcome all the time, not only to be used when they want our votes, support and participation in coalitions to benefit others. The time has come for a change. The Democratic Party should not be a party of only two issues: Abortion and homosexual marriage. Everybody should be accepted: Orthodox Jews, Evangelical Christians, Catholics, Muslims, and those with religious beliefs that oppose abortion and homosexual marriage. YES WE CAN!"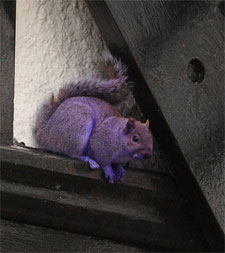 Theories floated as to why this squirrel is purple.

Blind man "sees" with subconscious mind.

Blistering Boston Globe op-ed on Obama's Warren invitation.

Little Britain's Matt Lucas and David Walliams have won a libel case over a fake report in UK tabloid Daily Star that Little Britain USA offended gay groups in America. If you'll remember, that fake group was called the West Hollywood Gay and Lesbian Alliance.

Michael Jackson: reports of my imminent death have been greatly exaggerated.

Seattle City Councilman described as "gay as a tree full of kittens" receives actual tree full of kittens.

Naval Academy alum Steve Clark Hall making gay-themed documentary: "He hopes the film will help people see that gay service members exist and have achieved great things, and that the 'don't ask, don't tell' policy – which requires gays in the military to hide their sexual identities or risk expulsion – is a 'folly.'"

Brighton, UK man injured in homophobic attack: "A man was subjected to homophobic and racist abuse before being smashed in the face with a glass in a Brighton street, police have said. Images of two men who police want to speak to in connection with the attack in West Street have been issued by Sussex Police. The victim, aged 50, sustained extensive injuries during the assault, a police spokesman said. He said that the victim was distinctive as he was wearing smart clothing including a waistcoat and a hat."

Clay Aiken reflects on year of coming out and inspiring others to do the same: "I'm very humbled by that. I really don't know what to say about that. I think that hopefully less than inspiring people I will have an opportunity to open people's eyes to different viewpoints and different possibilities in their life."

Simon Cowell jetskis around, searching for a photographer.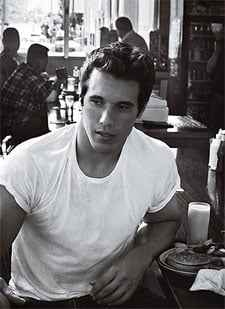 REPORT: QB Brady Quinn punched in the face in Browns' weight room.

Panamanian police blame collapse of emergency phone lines on gays: "According to a police source, now that the school year has ended many youths make pranks on the dispatchers, during most of the day, while at night, alleged homosexuals call to harass police units, without thinking that this call might save the life of a person when it is really needed."

More Pattinson haircut pics.

Navy lieutenant who killed wife because she was going to reveal that he had an affair with another man is convicted with recommendation of 25-year prison sentence: "On Feb. 19, 2007, Everage struck his wife at their Norfolk home, Anderson said. He loaded her into an SUV and drove to Shore Drive near Atlantic Avenue, where he dragged her out of the vehicle and pulled her across brush nearly 30 feet into the woods. 'Can you imagine how scared she was?' Anderson asked. Robyn Everage's body was found two days later. A medical examiner testified she had been struck at least four times in the head. A side-view truck mirror with her blood on it was found nearby. Prosecutors told jurors that Everage killed his wife to prevent her from disclosing information – such as his sexual affair with another man – that could ruin his military career and his chances of having custody of his three children, including a 3-year-old daughter with Robyn."