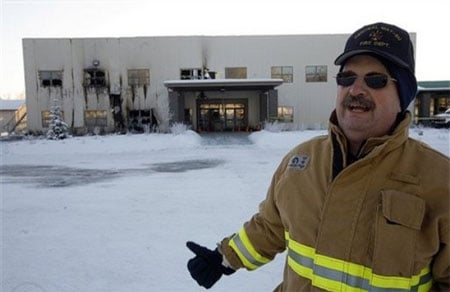 Governor Sarah Palin called into On the Record with Greta van Susteren last night to talk about the church fire that destroyed the Wasilla Bible Church over the weekend. Right wing pundits have been trying to link the fire to gays because of criticism during the campaign of the church's promotion of an "ex-gay" conference, although there is no evidence gay people had anything to do with the church fire.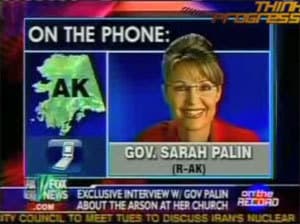 Here's a transcript:
VAN SUSTEREN: Well, when we were there, there was one little controversy that was brewing that the pastor was trying to explain to us about gays and some sort of meeting in Anchorage. Do you know about that at all, what that controversy was?
PALIN: Yeah, I think there was an insert in the church's bulletin one Sunday that had advertised a seminar that was being (INAUDIBLE) at another church in Anchorage, and it had to do with those who wanted some assistance or some kind of counseling in dealing with any struggles that they would have regarding homosexuality. And it was a seminar that was advertised at the church. And yep, that drew quite a bit of scrutiny during the presidential campaign because people looked at that and wanted to spin that into something that it was not. And yes, that was a bit of the scrutiny and attention that the Wasilla Bible Church has received.
VAN SUSTEREN: Well, are gays welcome at your church in Wasilla, the one that was burned?
PALIN: Absolutely. Of course. Yes. In fact, the pastors and leadership at that church, they are quite open in terms of welcoming people into the church and assisting anyone who desires assistance or counseling or help. That's what this church is all about. Wasilla Bible Church, along with some other churches in Wasilla and Alaska, are very, very good, very, again, biblically-based and not intolerant or judgmental, just welcoming people of all walks of life.
In fact, nobody was trying to "spin" anything during the campaign. The only "spin" that was going on was pointing out the church's endorsement of discredited Christian therapy programs that claim to "cure" homosexuality but have been shown time and time again not only to fail in their efforts, but to do more harm than good.
The NYT reported, in 2007: "Mental health experts say there is no proof that sexual reorientation therapy, as it is often called, works. Meanwhile, they argue, the damage it can inflict on self-esteem, triggering depression and even suicide, is well documented. 'There's not a debate in the profession on this issue,' said Dr. Jack Drescher, a New York psychiatrist and former chairman of the Committee on Gay, Lesbian and Bisexual Issues of the American Psychiatric Association. 'This is like creationism. You create the impression to the public as if there was a debate in the profession, which there is not.'"
Watch the On the Record clip, AFTER THE JUMP…
Palin Defends Church's Promotion Of Group That Aims For Gays To 'Overcome' 'Unwanted Same-Sex Attractions' [think progress]