"The Rt. Rev. V. Gene Robinson of New Hampshire, who became the Episcopal Church's first openly gay bishop in 2003 and last year entered into a civil union with his gay partner, will deliver the invocation for Sunday's kickoff inaugural event on the steps of the Lincoln Memorial, with President-elect Obama in attendance. The event is free and open to the public. An Obama source: 'Robinson was in the plans before the complaints about Rick Warren. Many skeptics will read this as a direct reaction to the Warren criticism – but it's just not so.' Robinson has been referred to as 'the most controversial Christian in the world.'"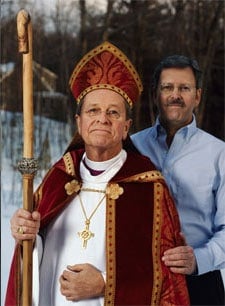 WON'T USE A BIBLE:
The AP adds: "Robinson said last month the choice of Warren was like a slap in the face. In an interview with the Concord Monitor this weekend, he said he doesn't believe Obama invited him in response to the Warren criticism but said his inclusion won't go unnoticed by the gay and lesbian community. 'It's important for any minority to see themselves represented in some way,' Robinson said. 'Whether it be a racial minority, an ethnic minority, or in our case, a sexual minority. Just seeing someone like you up front matters.' … Robinson said both Obama and Vice President-elect Joe Biden will attend the event, and Obama is expected to speak. As for himself, Robinson said he doesn't yet know what he'll say, but he knows he won't use a Bible. 'While that is a holy and sacred text to me, it is not for many Americans,' Robinson said. 'I will be careful not to be especially Christian in my prayer. This is a prayer for the whole nation.' Robinson said his prayer will be reflective of the times. 'I think these are sober and difficult times that we are facing,' he said. 'It won't be a happy, clappy prayer.'"
In November it was reported that Obama sought out Robinson three times during his campaign for advice on various issues.
In November, the Times reported: "Bishop Robinson, in London as a guest of the gay rights group Stonewall for its annual 'Hero of the Year' awards dinner at the Victoria and Albert Museum tonight, said that Mr Obama's campaign team had sought him last year and he had the 'honour' of three private conversations with the future president of the United States last May and June. 'The first words out of his mouth were: 'Well you're certainly causing a lot of trouble', My response to him was: 'Well that makes two of us'.' He said that Mr Obama had indicated his support for equal civil rights for gay and lesbian people and described the election as a 'religious experience'. Bishop Robinson described his conversations with him as part of Mr Obama's 'extraordinary' outreach to all religious communities, not just Christian groups. Mr Obama, although not a member of The Episcopal Church to which Bishop Robinson belongs, is a committed Christian with the United Church of Christ."
Robinson endorsed Obama's campaign for president in August 2007.
CNN's report on the Robinson pick, AFTER THE JUMP…