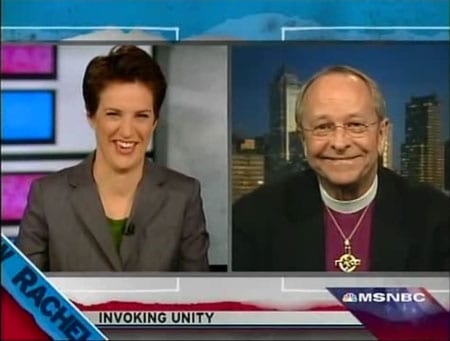 Robinson discusses his delivery of the opening ceremony invocation and participation in the inauguration, his prior meetings with Obama, the Rick Warren choice, same-sex marriage, and what's to come for the Obama administration and gay people.
Said Robinson: "I think gay and lesbian people everywhere should feel very welcomed by this administration…I long for a government that respects the dignity of every human being, especially those who are less fortunate."
Yesterday, Pastor Rick Warren praised Obama's choice of Robinson.
NOTE: Corey Johnson and I will be bringing you coverage and interviews from D.C. during the inaugural weekend as we did from Denver during the DNC.
Watch Maddow's segment, AFTER THE JUMP…
Previously
Gay Bishop Gene Robinson to Deliver Invocation at Inaugural Opening [tr]