This news broke on Friday but I didn't have a chance to mention it. The Log Cabin Republicans appear to be facing a major financial crunch: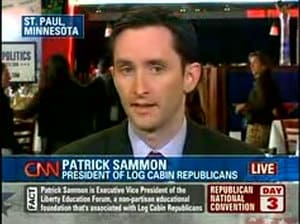 "The Log Cabin Republicans, hampered by lackluster 2008 fundraising, is facing financial difficulties and ended the year at least $100,000 in debt, according to Patrick Sammon, the organization's president, who spoke to the Blade Friday. Sammon said he expects the organization to have around $100,000 in debt or 'maybe a little more,' adding that the figure is made up of consolidated debt. 'It's not like we're not paying the rent or not paying the phone bill or anything like that,' he said. 'We're current on the bills that we owe, but we do have some debt that's consolidated.' Sammon said the organization expected donations would be higher last year because of the presidential election. 'Really what we anticipated was that 2008 would be a better year fundraising-wise based on what we've seen in other presidential election years,' he said. 'We just didn't see the fundraising materialize the way that we expected.' Sammon said the economic downturn in the past year 'certainly has affected' Log Cabin's ability to raise as much as had been forecast for the year. He added that other gay organizations and non-profits are facing similar challenges in the current economy."
The LCRs endorsed McCain during the presidential campaign. Said Sammon at the time: "On the most important issue that LGBT Americans faced in the last decade—the federal marriage amendment—Sen. John McCain stood with us. Now we stand with him. Sen. McCain is an inclusive Republican who is focusing the GOP on unifying core principles that appeal to independent voters. Sen. McCain showed courage by bucking his own party's leadership and the president—twice voting against the amendment. He gave an impassioned speech on the Senate floor, calling the amendment 'antithetical in every way to the core philosophy of Republicans.' He paid a political price for his vote…In recent years, too many Republican politicians have used divisive social issues in an effort to win elections. Sen. McCain is a different kind of Republican…"
In November, Sammon announced that he would be leaving the organization early this year.