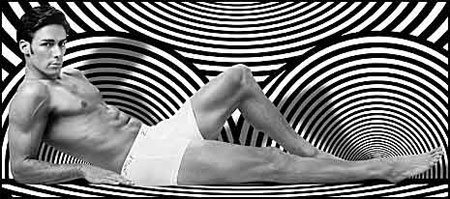 Outsports has an excerpt from a new book called The Metrosexual: Gender, Sexuality, and Sport which delves deep, deep, deep into the topic of male underwear and the jocks that wear it.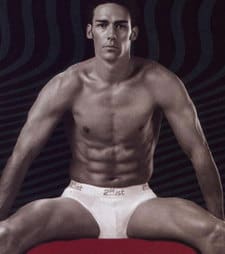 Here's the really complex argument for why 2(x)ist got New York Giants' cornerback Jason Sehorn to star in their undie ads:
"There was an added reason to use a twice-married, heteronormative sportsman to sponsor men's underwear. In order to attract heterosexually identified males or their partners into buying more sexy, costly, and stylish underwear, it made commercial sense to have a married man exhibit himself in a Lycra piqué knit, brushed nylon, or Peruvian cotton. Without this strategy, buying underwear for luxurious softness, moisture management systems, stretch, and 'breathability' might be construed as fetishistic and thus resemble homosexual shopping habits. Sponsorship of Queer Eye for the Straight Guy by 2(x)ist, coupled with explicit advice from the Fab Five mentioning the underwear stylist in various episodes, showed the new inseparability of the heterosexual and gay buying public, now rubbing shoulders at the same underwear counters."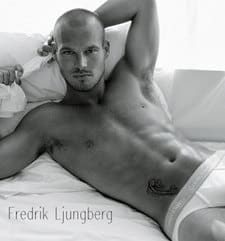 And to think I thought it was just cause he was hot. The author also does in-depth analysis on Freddie Ljungberg:
"The twenty-six-year-old athlete evidenced a return by Calvin Klein to his initial men's underwear marketing strategy, begun twenty years previously with Hintnaus. Photographed by Steven Klein, the new CK poster featured Freddie with his arms upright, one hand behind his head, the other lying flat on his military-style scalp. These gestures accentuated his shoulder and pectoral muscles. A false panther tattoo on the right side of his abdomen, replacing a real panther tattoo on Freddie's back, added a fetishistic interest and drew the viewer's eye towards the Pro Stretch pouch. Klein's 2005 publicity poster of Ljungberg showed one arm gripping a bar (emphasizing his bicep) and another pulling down slightly on the waistband of his black CK boxer briefs to expose a part of his groin."
No doubt there's an entire chapter devoted to the Beckham bulge.
Metrosexuals in sports [outsports]