The NYT reports that former Ohio secretary of state Ken Blackwell continues to be a leading contender for the chairman of the Republican National Committee: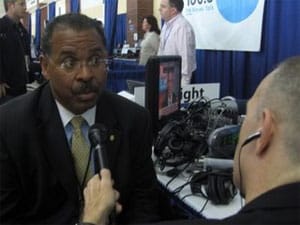 "The six candidates are four white men, including two from the South, and two black men: Michael Steele, the former lieutenant governor of Maryland, and J. Kenneth Blackwell, the former Ohio secretary of state. Because it is a six-way race in which ballots are cast anonymously, it is impossible to project who might win. But party leaders said Mr. Blackwell and Mr. Steele were viable candidates, particularly Mr. Blackwell, who has strong support from social conservatives."
Michelangelo Signorile reports on an interview he did with Blackwell some time back in which he says "homosexuality is a compulsion that can be contained, repressed or changed."
You may remember Blackwell's recent response to Colin Powell's remarks that it was time for "Don't Ask, Don't Tell" to go. Blackwell said he was confident the current system works, even though he lacks the military experience of Powell.