Yesterday morning I posted about the threat in Seattle made by an unknown terrorist to eleven of the city's gay bars, threatening to poison their patrons with the potentially deadly agent Ricin. There have been developments.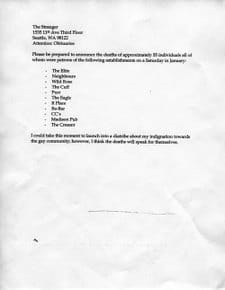 Yesterday afternoon, Dan Savage at Slog posted the second Ricin letter, the one that was sent to the offices of The Stranger. Earlier yesterday, Dan Savage guessed the letters were written by a gay man.
Wrote Savage: "The letters strike me as having been written by a very bitter man—by someone who came out, expected that gay life would a glorious cycle of song, and was shocked to discover that gay life—just like straight life—comes with no guarantees. In the years after coming out he learned that some people, gay and straight, can be assholes; that gay men were not, despite the hype, his 'brothers.' I wouldn't be surprised if this person had a meth problem and a string of failed relationships. He's someone who has probably, through the choices he's made, succeeded in making a complete hash of his life. But he doesn't want to take responsibility for his choices so he blames gay people in general, and gay life, and the bars, and pins his personal failures on the 'community.'"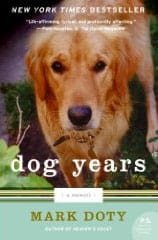 Then, a slog commenter noticed that some of the phrasing in the letters was taken directly from a poem by gay poet Mark Doty (who recently won a National Book Award) from his book Dog Years. Here's the poem in full.
Doty wrote Slog: "This is just repellent. On the literal level, my poem is about looking at fish on ice in the grocery store, and wondering if they could be called individuals. But I wrote in '94, in the crisis years of the epidemic, and so I was really thinking about mortality. I was trying to imagine some way to make the loss of those we love seem even temporarily bearable. So I was thinking about what it means to 'have' a self, to be a self, when selfhood is something we lose. I was trying to console myself and others, at least a little, for all we'd endured. So, it's especially ugly for these words to be used against gay men. Writers have no control over what people do with their words, but this is as far from my intention as you could get."
Doty echoes those thoughts, and adds to them, on his own blog.
Police are investigating and bar owners and patrons are showing solidarity. The pouring will go on.