D.C. Mayor Fenty to meet with Gays and Lesbians Opposing Violence (GLOV) over increase in anti-gay bias crimes on January 16th.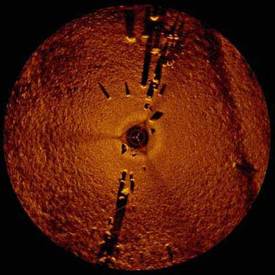 Is there an ancient Stonehenge at the bottom of Lake Michigan?
Richard Gere frolics in the surf.
Toronto-area man shot after homophobic altercation at massage parlor.
Three men in custody following drunken air rage flight from Manchester UK to the Dominican Republic: "The trio were allegedly drunk, violent and abusive and the captain was so concerned about fighting on board that he had to divert and land in Bermuda. A 35-year-old man from Burnley, Lancashire, was arrested at Gatwick airport after being returned from Bermuda. He was arrested on suspicion of endangering an aircraft and is currently in custody at Crawley police station. The two other men are still in custody in Bermuda and are due to be flown back to the UK in the next few days. Police said the men would all be questioned about alleged homophobic public order offences, affray and smoking on board the plane."
Obama to tear down wall between NASA and Pentagon in face of Chinese space race?
Michael Phelps putting himself in a hairy situation.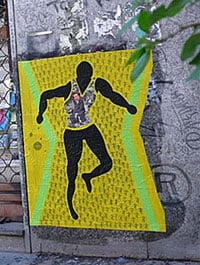 Athletic new street artist covers New York.
UK MP and shadow justice secretary Nick Herbert in civil partnership with longtime boyfriend Jason Eades.
Clive Davis plays a very brief clip of a demo of Kelly Clarkson's next single, "My Life Would Suck Without You."
PR Maven Howard Bragman warns Caroline Kennedy to dig deep before tearing down that wall of privacy she's built her whole life: "I don't like to be too simplistic but you either love life in the public eye or you don't. I don't believe she does. One celebrity once said that privacy is like your health–you take it for granted until you no longer have it. She is putting something she worked hard to create at great risk. Once her wall between public and private comes down, there's no turning back."
University of Texas-Austin students working on legitimizing second gay fraternity in Texas: "They will become an official fraternity chapter after initiating three pledge classes. They inducted their first class in November."
Broadway bloodbath: Nine shows shutter due to recession.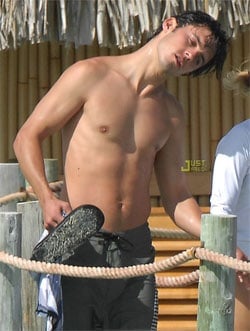 Milo Ventimiglia bares it in Bora Bora.
Rare sea creatures come ashore on north Oregon coast.
Croatian woman sent to "ex-gay" therapy treatment center for five years: "Parents sent Rijeka-born Ana Dragicevic (21) to a mental institution in Lopac when she was 16, stating heroin addiction as the reason. Because she spent five years in hospital, she did not gradate and still has nightmares as a consequence…Ana was bound, she put on straight jackets, she was given injections, pills. The girl was in the same ward as schizophrenic patients, whom she was afraid due to their aggression."
Apple CEO Steve Jobs announces he's losing weight due to a hormone imbalance.
Courtney Love is desperately seeking something.
Lesbian gang rape in Richmond highlights anti-gay violence and the need for victims to report it: "'The only way we know about (the Richmond) case is because of the bravery of the survivor coming out,' Virago said. 'Hatred and bias are a routine occurrence for many LGBT people.' That may partly be due to the psychology behind hate crimes, particularly those involving sexual orientation, said a psychology professor at St. Mary's College in Moraga. 'What you get is this kind of immature desire to display power,' said Jose Feito. 'And so they go looking for easy victims, or suitable victims.' In the Richmond case, Feito said, 'suitable' meant someone the attackers could marginalize in their minds. Sexual orientation can serve as a hate crime's 'trigger,' as he called it. But it is often that factor combined with a perception of gender nonconformity that leads to violence, he said."