Chris Buttars, the Utah state senator who was removed from two committees last week for his remarks comparing gays to radical Muslim extremists and saying they are America's "greatest threat," posted a message on the GOP senate blog on Friday,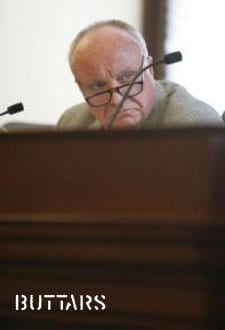 "I was disappointed to learn of the Utah State Senate's censure on Feb.20, 2009. However, this action will not discourage me from defendingmarriage from an increasingly vocal and radical segment of thehomosexual community. In recent years, registering opposition tothe homosexual agenda has become almost impossible. Politicalcorrectness has replaced open and energetic debate. Those who dare todisagree with the homosexual agenda are labeled 'haters,' and 'bigots,'and are censured by their peers. The media contributes to the problem.Increasingly, individuals with conservative beliefs are targeted by aleft-leaning media that uses their position of public trust as a bullypulpit. This pattern of intimidation suppresses free speech. Forthe record, I do not agree with the censure I see it as an attempt toshy away from controversy. In particular, I disagree with my removal asChair of the Senate Judiciary Committee, since my work there isentirely unrelated to my opposition to the homosexual agenda. Still,I'm a grown man and I can take my knocks. When it comes right down toit, I would rather be censured for doing what I think is right, than behonored by my colleagues for bowing to the pressure of a specialinterest group that has been allowed to act with impunity. Thanksto the many citizens who have written and called to express theirsupport. Please know that I'll live through this to fight another day.In years to come, we'll all look back at this point in history and seeit as a crossroads. I have no intention of resigning."
And according to one senator who says he agrees with Buttars' views, Buttars was removed from the committees not for the content of his remarks, but because he violated an agreement that he not speak publicly about gay issues because of his leadership position on the committees.
Said Sen. Howard Stephenson, R-Draper: "Most of what Senator Buttarssaid, I agree with. We as a Senate caucus hadan agreement that because Sen. Buttars had become such a lightning rodon this issue, he would not be the spokesman on this issue, andbasically he violated that agreement."
The Utah senate stands behind him, according to Senate President Michael Waddoups.
A refresh of Buttars' remarks, AFTER THE JUMP…