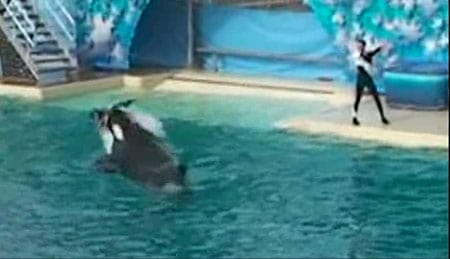 A pelican made an unfortunate rest stop in the killer whale tank at Sea World just as the Shamu "Believe" show was underway on Friday. The pelican was quickly pulled underwater by one whale who began tearing it apart and sharing it with the two other whales.
The trainers then tried to distract the whales and herd them into another part of the tank so they could retrieve the various bloodied pelican parts from the water (below), all to a perky Disney soundtrack.
They may be in captivity, but they're still wild animals.
Watch it, AFTER THE JUMP…