Victor Willis, the original cop from the Village People who left the group in 1980, is suing the current group, saying they use his voice and image to promote themselves, and he wants none of it: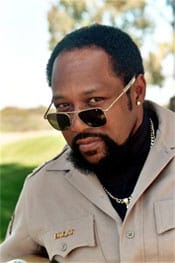 "The lawsuit filed last week in San Diego by Victor Willis claims companies continue to use his voice and picture to promote the new Village People. He is seeking at least $1 million and a judge's order that they can no longer use his image or voice. Willis was the original police officer in the group and helped pen the Village People's greatest hits, including 'Y.M.C.A' and 'Macho Man.' He is suing Sixuvus Ltd., a New York company that promotes the new Village People. He's also suing the William Morris Agency as well as Can't Stop Productions, which owns the trademark to the band's name, and several venues where the new group has performed."
In 2007, Willis claimed the the lyrics in "Y.M.C.A." were not about gay cruising but about hanging out with your straight buddies.
Said Willis' publicist Alice Wolf: "Victor Willis wrote about the YMCA and having fun there, but the type of fun he was talking about was straight fun. When he says, 'Hang out with all the boys'… he's talking about the boys, the fellas…. But it's one of those ambiguous songs that was taken that way because of the gay association with Village People.'"
Wolf said Willis has nothing against gay people. The former fake cop also made news in 2005 when he was arrested after police found a loaded .45 and crack cocaine in his convertible Corvette.