Jury out in murder case against anti-gay killers of Liverpool teen Michael Causer.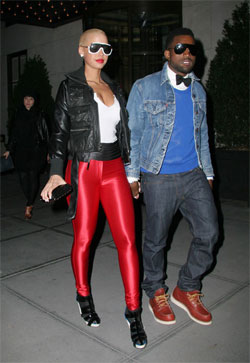 Kanye West steps out with gaybot.


Hillary Clinton talks about why she took job as Secretary of State: "It was not anything I had any reason to expect or had even thought about. I had to make a hard decision. We have so many of the same views of what we should do in the world." Gets Hardball award from Chris Matthews.


Porn producer Michael Lucas sends letter to Barack Obama requesting aid after seizure of adult video titles by Canadian authorities.


Gay tease Hayden Christensen chooses women.


One of Buffalo Continental plane crash victims was long time HIV prevention and gay men's health advocate: "Gonzalez came to New Brunswick from the Robert Wood Johnson Foundation in Princeton, where he was a National Urban Fellow. Previously, he was executive director of Alianza Latina, a nonprofit organization addressing HIV/AIDS in Buffalo, N.Y.; and also education services director and community educator of AIDS Community Services in New York. Gonzalez also volunteered at a fitness center in East Harlem, N.Y., where he led free exercise classes for the poor."



POLL: 48% of New Jersey residents favor marriage equality, 43% oppose.


Madonna will not be appearing in vampire sequel.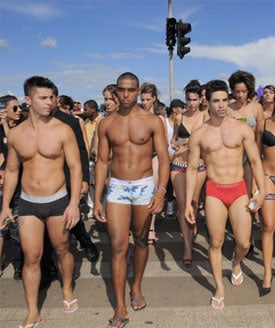 Guess what day it is in Brazil?


New York Press takes a look at the East Village Boys. "The boys that we have on there, they sort of exist as the low-culture pin-up boys. It provides a good mix, having serious discussions without forgetting that we like to look at pictures of naked boys. When you read a newspaper, the most successful ones combine high and low culture. I don't think most American newspapers do it well it all, but if you look at something like The Guardian, it's serious but they also recognize that you want a little bit of everything and I think that's kind of where we are…people come to the site for the cock, but they stay for the culture." 


Anti-gay marriage amendment stopped in Indiana legislature: "Indiana's Senate Republican Caucus voted this week not to consider a resolution that would have proposed amending the state constitution to define marriage as between a man and a woman.  This vote means the amendment is unlikely to advance during this legislative session.  The resolution would require approval by the Senate and House in two consecutive legislative sessions, and, if approved, would then go before the voters."


Former Project Runway designer Jack Mackenroth, who is interviewed this week by the San Francisco Bay Times, blogs fashion week in NYC.

SF Weekly:
Heads to butt at upcoming Prop 8 town hall
. "Supervisors Bevan Dufty, Assemblyman Tom Ammiano, and Senator Mark Leno will all apparently be there, as will ball-busting gay blogger and activist Michael Petrelis, who has spent a whole lot of time castigating the architects of the No on 8 campaign. In January, Petrelis posted the names and phone numbers of the 16 members of the No on 8 executive committee. According to Petrelis's blog, Petrelis Files, he had to file a public records request with the Secretary of State to get the names. "Like practically everything [Equality California Executive Director Geoff] Kors and No on 8 touched, the closet and non-transparency ruled," Petralis wrote. Then said he hoped the executive committee, which included Kors, would spend the next year sweeping the streets of gay neighborhoods and participating in other acts of penance for wasting $45 million on losing gays the right to marry."

Stonewall, the FBU, the Local Government Association, the Chief Fire Officers' Association, Unison, the Asian Fire Service Association, the Fire Officers' Association, the GMB, the National Disabled Fire Association, Networking Women in the Fire Service and the Retained Firefighters Union
call for end of homophobic bullying among UK firefighters
.

Paris Hilton
attempts rap with Snoop Dogg
.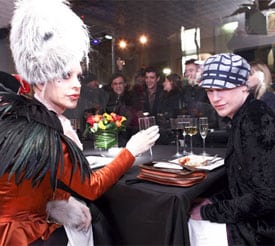 Diesel 
displays downtown denizens dining
: "Around 9 p.m. the guests took their seats around a table in the window of the new store, which opens to the public on Thursday, in full view of confused passerby. They nibbled Olivier Cheng catering while a pack of photographers snapped their photos through the large glass window, and Diesel employees and some invited press roamed the store."

AfterElton
talks to Keir Gilchrist
, the gay son on
T
he United States of Tara
.

Is GLASS the first LGBT non-profit
to fall victim to recession
? "Wednesday night, eight days after its 25th anniversary, the board of directors of Gay and Lesbian  Adolescent Social Services (GLASS) voted 7-0 (with one abstention) to file for Chapter 7 bankruptcy this afternoon.  According to founder and executive director Terry DeCrescenzo, the staff is so "outraged" at the board's decision, they plan to ask a court to intervene and accept a reorganization plan instead."

Beaverton contractor
launches crusade against Portland Mayor Sam Adams
: "He passed out pamphlets detailing why Adams should be kicked out of office and said he plans to file charges with the state Thursday. PJ Mulcahy rented a room at Portland City Hall for Wednesday's press conference. He and several other people said Adams is not only an embarrassment to the city but they think he violated election laws for lying about his affair with a teenager. Mulcahy also brought a replica of the Ten Commandments and said Adams not only lied to the public, he sinned."